March 14 MP compares Syria to Israel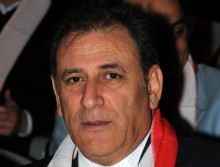 March 14 MP Jamal al-Jarrah drew a parallel between the Syrian regime's violence against its people to Israel's policies toward the Palestinian people.
"The Syrian regime has started to act against its people in the same way Israelis has been acting against the Palestinian people. The regime is demolishing their homes and forcing them to leave their land," Jarrah told Future TV on Tuesday.
" Lebanese Foreign Minister Adnan Mansour and PM Najib Mikati should have summoned Syrian Ambassador to Lebanon (Ali Abdul Karim Ali ), who has been behind the abductions as well as the security violations ."
March 14 coalition, the main opposition group in Lebanon has called for deploying UNIFIL peacekeeping forces along Lebanon's border with Syria following the repeated violations by the Syrian troops. A number of Lebanese nationals along the border have either been killed or kidnapped by the Syrian forces and many Lebanese houses were destroyed.