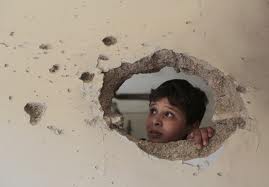 By: Ana Maria Luca
TRIPOLI, Lebanon — Abou Ahmad has been fighting in Tripoli's Sunni neighborhood of Bab al-Tabbaneh since he was a teenager. Battles come and go. But for the past few days he has felt the fighting was not going to end. "God knows when we'll be done!" he said, while resting between shoot-outs last week.
The young man, in his early 20s, who says he likes to party and have a beer with friends in his spare time, is positioned in Souk al-Qameh in a 13-person brigade containing Salafis and Islamists. "We are fighting together because this is our land and we have to defend it. We are Sunnis, they are Alawites," he explains.
The latest outbreak of fighting between the predominantly Sunni Muslim residents of Bab al-Tabbaneh and the Alawite neighborhood of Jabal Mohsen, the poorest neighborhoods of this northern Lebanese city, started during Eid al-Fitr, killing 15 and injuring over 100. The two neighborhoods have clashed many times since the Lebanese civil war ended in 1990, and six times since the Syrian uprising started, raising fears that the Syrian conflict is spilling over into Lebanon.
The conflict has already been dubbed "little Syria." The Alawite fortress of Jabal Mohsen has up to 60,000 inhabitants, and has been hosting armed supporters of pro-regime factions for years (Syrian President Bashar al-Assad is an Alawite). It is located on a hill, which makes it a good location for snipers and inaccessible for curious visitors. Bab al-Tabbaneh is located down the hill and is separated from Jabal Mohsen by the aptly named Syria Street.
The strife goes back to the Lebanese civil war. The Alawite Arab Democratic Party, based in Jabal Mohsen, fought alongside the Syrian army against the Sunni Islamist Tawhid Movement. The fighting peaked in 1986 when the party helped Syrian troops massacre most of the Sunni Islamist fighters in Tripoli. Since then, the fighting has always come down to Syrian power in Lebanon. The influx of mostly Sunni refugees and anti-Assad regime activists fleeing the regions of Homs and Idlib have aggravated the skirmishes, since the majority have found shelter in Bab al-Tabbaneh, where anti-Assad regime sentiment was already strong.
Tripoli's Sunnis at a crossroads
Community leaders in Bab al-Tabbaneh say that poverty has made the estimated 70,000 residents of the area especially vulnerable to political factions who buy their allegiance. Before January 2010, Bab al-Tabbaneh formed part of the pro-western Future Movement's supporter base. But recently, Salafi leaders have gained many converts while pro-Syrian factions, backed by Hezbollah with finances and weapons, have bought the allegiance of a few families, explains Mohammad Khalaf, a resident. Khalaf introduces himself as a community social worker disappointed by all political factions; he also fights in a brigade of Islamists, although he says he is not a Salafi.
Khalaf says that since Saad Hariri's pro-Western government was dissolved in 2010, and the Hezbollah-led pro-Syrian March 8 coalition took over the cabinet, the financial aid coming from the Future Movement stopped. It left its former followers struggling to put bread on their tables and — more importantly — afraid that they were no longer protected by a political faction.
"That's why everybody is arming. We need to organize ourselves better to be able to counter Hezbollah's threat. They are more organized than we are, and they have better weapons," Khalaf says. He refuses to say who is providing the weapons for the Sunni fighters, but stresses that "the only Sunni organization that can provide people with security and ideology are the Salafis, who also have moderated their speech to answer the people's needs."
According to Khalaf, "Hezbollah has taken advantage of the situation and several small armed groups in Bab al-Tabbaneh are on their payroll. They receive around US$4,000 a month per group. That is a lot of money for our neighborhood. I don't blame them, they are our neighbors. And sometimes Hezbollah helps people here, not just with money, but with connections and health care too," Khalaf said.
"They know they can't take over Tripoli, but they use these people to create problems, provoke people and then they blame the Sunni Islamists," he added.
Syrian activists head to Tripoli
Many people in the Sunni neighborhood blame the Syrian regime for the fighting. Several residents say that Damascus is using its pawns in Jabal Mohsen to stir more trouble in Lebanon and blame the Islamists in Bab al-Tabbaneh for aiding the Syrian rebels and the Free Syrian Army. But, there are no Syrian fighters in Bab al-Tabbaneh, says Amir Mandou, who runs the Syrian National Council aid distribution office in Tripoli, located in Zahrieh, which borders the restive neighborhoods.
"If any Syrian young man wants to fight, they go to Syria and join the Free Syrian Army. They don't stay here," he points out, saying that two of his friends had packed their bags and were on their way to Syria that night.
Mandou says the presence of Syrian refugees and activists deepened anti-Syrian and anti-government sentiments among Bab al-Tabbaneh's residents. With several Lebanese security agencies controlled by Damascus hunting for anti-regime activists in Lebanon, and pro-Syrian Lebanese tribes on the hunt for suspected Free Syrian Army fighters, Syrians in Tripoli have to keep a low profile.
"These fighters in Bab al-Tabbaneh are protecting us," Mandou says. "At first, Lebanese military intelligence used to follow the Syrian refugees just because they were anti-Assad. They would arrest them, and transfer them to General Security, where they got deported back to Syria on the pretext they didn't have a Lebanese visa. When the media reported this, they stopped. The real problem now is the Shia clans' kidnapping spree," he adds.
Several Lebanese Shia clans have been abducting Syrian citizens whom they accuse of being members of the Free Syrian Army, in retaliation for their own relatives being taken by rebel factions in Syria.
"People fear their own shadow and they're not leaving this area, Bab al-Tabbaneh and Zahrieh, where they feel protected. They are stuck in a few buildings in Bab al-Tabbaneh. They left fighting in Syria and now they're caught in another war," the activist explains. He adds that the small militias who have become pro-Syrian, and who the residents say are paid by Hezbollah to cause skirmishes when it serves them, are also a threat to the refugees. "The other day the Mouri family, who works with Hezbollah, threatened me to take down the flag of the Syrian revolution. I left it up," he says. "Let them come."
A fragile ceasefire
The army deployed in force on 23 August on Tripoli's main arteries, as Lebanese ministers and local politicians met to reach another ceasefire agreement. An earlier agreement, which should have taken effect a day before, had failed. An inter-ministerial meeting held Thursday night at Prime Minister Najib Mikati's residence in Tripoli concluded with the decision to deploy more troops in both neighborhoods.
The fighting was aggravated the next day by the death of Salafi Sheikh Khaled al-Baradei and threatened to spread to other regions of Tripoli, as armed and masked men destroyed shops in Nour Square. The gunmen used machine-guns and RPGs, and sniper fire has terrorized residents and confined them to their homes over the weekend. The state commissioner to the Lebanese Military Court issued arrest warrants for all gunmen in Tripoli who appeared in media reports.
It wasn't until Sunday that the army was able to arrest 18 people for shooting at the troops, ten of whom were part of the Mouri family. In Zahrieh, the troops also seized a depot of weapons and ammunition belonging to the same family. None of the arrests were made in Bab al-Tabbaneh or Jabal Mohsen.
Despite the ceasefire, sniper fire between the two neighborhoods continued on Sunday night, leaving one dead and six wounded.
egypt independent