Brahimi takes up desperate bid to end Syria conflict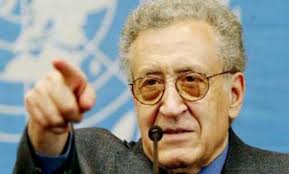 Veteran mediator Lakhdar Brahimi took up faltering international attempts to end the Syria conflict on Saturday, leaving his predecessor Kofi Annan to tend his diplomatic wounds.
With Syria marking the bloodiest month yet in the civil war and mounting fears of turmoil in surrounding countries, there are low expectations that the former Algerian foreign minister will have any more success than Annan.
Most western countries believe President Bashar al-Assad's forces will now fight it out with the opposition until one has an advantage that will allow a political accord.
Brahimi, who made his name brokering an accord in Lebanon's civil war in the 1980s and as a U.N. envoy to Afghanistan and Iraq, was to hold meetings Saturday at the U.N. headquarters ahead of a handover encounter on Tuesday with UN leader Ban Ki-moon and Annan, a U.N. spokesman said. Ban and Brahimi will discuss the war at the U.N. General Assembly the same day.
He expects to go soon to Damascus to meet Assad and to Cairo for talks with Arab League officials, said his spokesman Ahmad Fawzi. But no details of any initiative have yet emerged.
Annan halted his six month battle to make Assad and opposition rebels lay down their guns, complaining at the lack of support among the major powers for his six-point peace plan.
The former U.N. secretary general had called for sanctions against Assad to make him comply with the plan. But Russia and China used their powers as permanent U.N. Security Council members to block three resolutions which could have led to economic measures.
The council is now hopelessly divided on any move on the 17-month old war which Syrian activists say has left more than 25,000 dead. The United States, Britain, France and other western and Arab nations are concentrating their efforts outside the council.
The Syrian opposition had virtually disavowed Annan's efforts by the time he resigned and Assad had ignored all parts of the plan he had personally agreed with the envoy.
"Annan was the victim of an increasingly vicious campaign of public denunciations, not least by friends of the rebels who want to see the war go on until Assad falls," said Richard Gowan, associate director of New York University's Center on International Cooperation.
"It's likely that the same critics will target Brahimi, making his work harder."
Annan "blew his credibility" by failing to enforce deadlines in his peace plan while Assad forces stepped up shelling of protest cities, according to Andrew Tabler, a Syria expert at the Washington Institute for Near East Policy.
"Brahimi has an opportunity to regain U.N. credibility, but he is operating under the constraint of a divided UN Security Council," Tabler added.
The Security Council has maintained its backing for Annan's six point plan, which calls for an end to violence as a key step to starting a political transition. The international powers also signed up for an accord agreed at a Geneva meeting with Annan on June 30 which called for a transitional government.
Brahimi has made no firm commitment to keep to them however.
"I have a tool box and there are several useful tools that are in that tool box that I can use when and if possible," Brahimi's spokesman quoted him as saying.
"Brahimi is very well respected around the U.N. and has wisely avoided premature announcements about his plans. But the chances for a diplomatic solution through the U.N. are even lower than they were when Annan started work in the spring," said Gowan at New York University.
"Brahimi's best opportunity to mediate will come if and when the military situation gets decisively worse for Assad," he added. "That could persuade Russia and China to take a more flexible approach at the U.N."
"The impression is that both sides are for the moment determined to fight until the end," said France's U.N. envoy Gerard Araud. "So a political process is possible only when one or both parties decide that it is necessary to find a political process. For the moment, to be frank, there is no signal of that."
Al Arabiya