U.N. warns against threats to Lebanon amid Syria spillover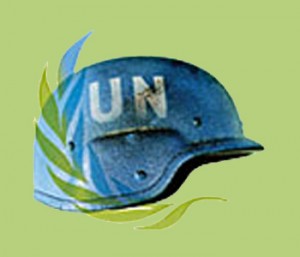 The U.N. Security Council warned on Thursday against attempts to threaten the security and stability of Lebanon amid outbursts of violence and escalating tensions in the country fueled by the 17-month conflict in neighboring Syria.
The warning was contained in a resolution unanimously passed by the council to renew a 11,500-strong U.N. peacekeeping force in Lebanon, known as UNIFIL and based in a Hezbollah stronghold in the south to monitor a cessation of hostilities with Israel.
The resolution condemned "all attempts to threaten the security and stability of Lebanon, reaffirming its determination to ensure that no such acts of intimidation will prevent UNIFIL from implementing its mandate."
A roadside bomb wounded five French peacekeepers in southern Lebanon in December, one of several attacks on the U.N. force last year. France blamed Syria for the attack, saying it had acted through its Lebanese ally, powerful Shi'ite Muslim militant group Hezbollah.
Syria, which has had far-reaching influence in Lebanon for decades, denied any links to the attack. Syrian President Bashar al-Assad withdrew troops from Lebanon in 2005 after a 29-year presence and Hezbollah remains a strong ally.
France, Lebanon's former colonial power, has contributed the largest number of troops to the U.N. peacekeeping force and is increasingly concerned the Syrian crisis — which began as peaceful pro-democracy protests — could spread into Lebanon.
In an annual foreign policy speech on Monday, French President Francois Hollande said a solution to the Syrian crisis had to be found before it spread beyond its borders.
"I realize the difficulty of the task and the risks, but what is at stake goes far beyond Syria," he said. "It concerns the entire security of the Middle East and especially the independence and stability of Lebanon."
Despite government efforts to insulate it from Syria's turmoil, Lebanon has seen armed clashes in its two largest cities, and earlier this month authorities said they uncovered a Syrian plot to destabilize the country.
U.N. Secretary-General Ban Ki-moon has expressed concern that the violence in Syria, which the world body says has killed nearly 20,000 people, could spread to Lebanon.
Reuters