Surprise, surprise Feltman attends the NAM summit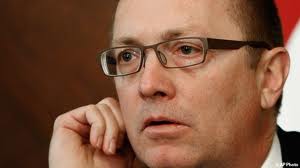 The big surprise  at the Non-Aligned Movement (NAM) summit in Tehran is the presence of  UN Under Secretary for Political Affairs Jeff Feltman.
Feltman, who until last May served as a top US diplomat, became on Wednesday the most senior current or former American official ever known to meet Iran's Supreme Leader Ayatollah Ali Khamenei. Feltman, the former Assistant Secretary of State for Near Eastern Affairs and former US ambassador to Lebanon met with Iran's Supreme Leader as part of the entourage accompanying Ban Ki-Moon for meetings in Tehran.
Feltman looks distinctly uncomfortable in a photo released by the Iranian government and, indeed, he should considering the fact that he is the most hated US Politician by Hezbollah , Iran's brainchild in Lebanon.
During a visit to Lebanon in October 2010 Hezbollah supporters held a rally in Dhahiya, a southern suburb of Beirut ( which is considered a Hezbollah stronghold ) to protest against his visit . A poster of Feltman was displayed and placard read" You are not welcome".
Feltman did a stellar job as U.S. ambassador to Lebanon from 2004 to 2008. He stepped up to the plate during the Cedar Revolution  which erupted    in 2005 following the assassination of former Lebanese Prime minister Rafik Hariri and helped give the Lebanese a real shot at affirming their freedom and independence from Syrian domination.
Syria is a staunch ally of Iran.
Lebanese observers believes that Feltman's participation in the summit could indicate that some negotiations of great importance between the Iranians and Americans will likely take place on the sidelines of the summit.