Lebanon FM: 'Iran is a model of a strong regional country'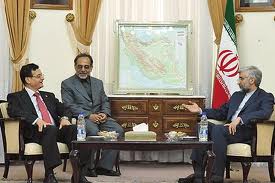 Lebanese foreign minister Adnan Mansour was quoted by Iranian state news agency ABNA as saying that "Iran is a model of a strong regional country ". He reportedly made the remark at a meeting with the secretary of Iran's Supreme National Security Council (SNSC), Saeed Jalili, in Tehran on Monday.
Mansour was also quoted as saying about 16th Summit of the Non-Aligned Movement (NAM), which is currently underway in Tehran that "NAM members should seize the opportunity to find proper solutions to regional issues."
On the other hand Jalili said that Lebanon, as a NAM member state and the symbol of resistance and the struggle against occupation, has played an important role in regional developments.
Jalili was also quoted as saying "the sweeping wave of the Islamic Awakening would strengthen the resistance movement day by day."
Mansour comes from the Shiite Muslim Amal Movement party , a strong ally of the Iranian and Syrian-backed Hezbollah militant group.
The current Lebanese government is dominated by Hezbollah and was reportedly made in Syria.
Mansour has been accused on several occasions of acting on orders from Syria, a staunch ally of the Iranian regime.