Probe reveals Syria's Assad behind Lebanon terrorism plot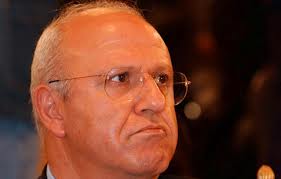 Syrian President Bashar al-Assad gave his direct orders to executing terrorist attacks in Lebanon, details of an investigation with former Lebanese information minister Michel Samaha, detained for alleged involvement in the plot, revealed on Monday.
Lebanese daily newspaper al-Jumhourya reported that Samaha had admitted to investigators that he was working for the Syrian regime trying to execute a plan to blow up explosives in the northern Lebanese city of Akkar.
Samaha admitted to having collaborated with General Ai al-Mamlouk, head of the Syrian national security bureau, whom Samaha said is now holding a senior position within the Syrian regime.
Samaha was arrested on Aug. 10 and was accused of planning to detonate bombs prepared by the Syrians with the aim of "inciting sectarian fighting" in Lebanon.
A Lebanese security agent who was reportedly in regular contact with Samaha helped unveiling the plot and led to Samaha's arrest.
The agent informed the head of Lebanese internal security service, Col. Wissam al-Hassan, that Samaha had asked him to "secure a group of trusted young men to transport explosive devices to the north and set them off there in exchange for a sum of money."
Col. Hassan initially found the story "strange," according to the daily Assafir, but after repeated insistence by the agent and the latter's request for security protection, the head of the internal security informed Attorney General Judge Said Mirza.
Mirza obtained security protection for the agent and opened the probe on the former minister, believed to be close to Syrian President Assad's regime.
A spy pen camera used by the agent recorded a phone call between the agent and Samaha in which they agreed to meet in the latter's office.
The recordings of meeting revealed details about the explosives, how they would be transported to the north of the country and set off on a mass gathering of people in the city of Akkar. The men also discussed targeting high profile Lebanese figures, especially from the opposition side and those who are against the Syrian regime.
The two men later had their final meeting in a parking under Samaha's office. Samaha, reportedly, handed the explosives and $170,000 to the agent.
According to Assafir, Samaha was filmed personally carrying from his car trunk the explosives, which were 24 in number, including four that weigh 15 kilograms. The rest weigh 1.5 kilograms. The agent after that drove to the internal securities and handed them the explosives.
On Thursday, Lebanese security forces arrested Samaha and a judge ordered that he be kept under arrest as part of the investigation.
Al Arabiya