Gemayel urges release of Lebanese detained in Syrian jails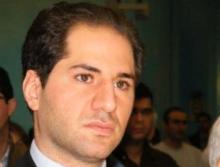 Commenting on the recent release a Lebanese man who had been detained in Syrian prisons for the past 27 years, Phalange Party MP Sami Gemayel said that the Lebanese government should exert pressure to secure the release of all Lebanese detainees in Syrian jails, National News Agency reported on Tuesday.
The release of a Yaacoub Chamoun,49 who was seized in the eastern city of Zahle 27 years ago brought back to the spotlight the issue of the Lebanese who went missing during Lebanon's 1975-90 Civil War.
"The [Lebanese] government should have the guts and dignity to request their release and defend their rights," Gemayel said following a meeting at his residence in Bekfaya with Minister of the Displaced Alaaeddine Terro
"After all the denials we have heard in the last thirty years, it transpired that this case did truly exist as we already said… There is a list which has already been submitted and which contains more than 300 detainees in Syrian prisons," Gemayel added.
On his part Terro voiced hope that the case of the detainees in Syria would be "put back on track, for the sake of the safety of the detainees in light of this difficult security situation in Syria."
"I hope that the Lebanese government and the international community will put pressure on Syria to release those who had been held in Syrian prisons," he added.
Human Rights groups have said that thousands of Lebanese nationals were arbitrarily detained and sent to Syrian prisons during the Lebanese civil war (1975-1990).