Verbal war escalates between Lebanon speaker, PM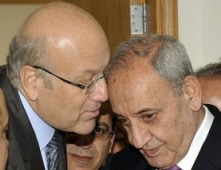 The verbal war between Speaker Nabih Berri and Prime Minster Najib Mikati continues as both leader traded criticism for the second day after the speaker accused the government of not exerting strong efforts to resolve the country's turmoil.
Berri criticized the cabinet's decision to postpone its meeting till the end of the month amid the deadly gunbattles in the northern city of Tripoli and the series of kidnappings of Syrian and Turkish nationals last week, according to a report by An Nahar newspaper
"How could the cabinet postpone its meeting to the end of the month [in light of these events]?" Berri told the daily
The government is now trying to live with the illness instead of treating it ," the speaker, who is also the leader of the Amal Movement , said.
But PM Mikati responded by saying that the "country is in great danger" and "the political authority is resolving each case (on its own )and dealing with each new crisis as it arises."
"The scene that we saw last Wednesday was a scene of war," he told An Nahar in reference to al-Mikdad clan's kidnapping of Syrians and a Turkish man in retaliation for the abduction of Hassan al-Mikdad by the Syrian rebels in Damascus and the blocking of the airport road by the relatves of the Lebanese Shiite pilgrims who were kidnapped in Syria last May
Mikati stressed that "the airport road cannot be blocked again".
"The political forces have the willingness to end the incidents as soon as they erupt and prevent their aggravation," he said, adding "had there been a real intention by some parties to ignite strife, then the last (incidents) in Lebanon in the past months" would have already set the country on fire.
Mikati's comments also come after Berri a criticized the prime minister for allegedly "not wanting to govern."
Berri also said that followings Syria's uprising, Mikati found himself in new circumstances that did not match his calculations.
But Mikati shot back by saying: "Governing the country was never limited to the government."
"As a partner, member of the government, and the head of the legislative authority in Lebanon, Berri is aware of the extent of the burden on my shoulders," Mikati said.
Berri is closely allied with the Iranian and Syrian backed Hezbollah militant group which dominates the so called " made in Syria "cabinet of PM Mikati.
Since the uprising in Syria Mikati who was Hezbollah's candidate to lead the government decided to dissociate Lebanon from the Syrian crisis and aligned himself more closely with the centrists ( The Lebanese president Michel Suleiman and the PSP leader MP Walid Jumblatt)
The current