Syrian refugees raise tensions in neighboring countries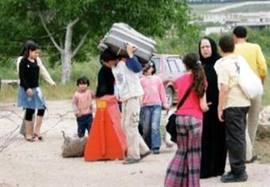 Beirut, Lebanon – In the last few days, thousands of Syrians have poured across the borders of neighboring countries, fleeing increasing violence in their homeland but creating tension elsewhere.
More than 170,000 Syrians have sought sanctuary in Lebanon, Turkey, Jordan and Iraq,at least 12,000 of them just in the last three days — leading to a growing humanitarian crisis, the United Nations refugee agency said Friday.
At least 168 people were killed across the country Friday, activists said, many of them in the cities of Aleppo, Damascus and Dara, as the regime of President Bashar Assad uses attack helicopters and warplanes with greater frequency in its assaults on towns and cities.
Syrians fleeing to Lebanon, however, are finding a potentially unstable situation there as well.
The leader of a prominent Lebanese political party on Friday called for declaring a state of emergency as the Syrian conflict spilled over into his country.
Samir Geagea, leader of the Christian Lebanese Forces party, called for the measure a week after Lebanese politician Michel Samaha was arrested and accused of planning to target Sunni Muslims in Lebanon. And on Wednesday, a powerful Shiite Muslim clan abducted dozens of Syrians and other foreigners in retaliation for the kidnapping of one of their kin by Free Syrian Army rebels.
More abductions were reported Thursday, though the clan denied responsibility.
"The image formed in every citizen's mind now is that Lebanon is an uncontrolled state with no authority, constitution or rules whatsoever," Geagea said in a televised news conference in which he condemned the abductions. "No matter how righteous and decent their cause was, nothing justifies what happened, as it paralyzed the country and annulled the state's role."
Hasan Mokdad was kidnapped in Syria several days ago, and an Internet video showed him sitting in front of three armed men. The rebels holding him allege that he is an operative with Hezbollah, a Lebanese Shiite militia, which opposition and Western governments have said is aiding Assad's crackdown on the opposition.
Mokdad's family insisted that he is a private citizen and threatened to continue kidnapping Syrians and others until he is released.
"We have barely executed 1% of our goals until now. We know the names of those hosting members of the Free Syrian Army, and we are capable of reaching them … in case of any act against us," a family representative told an official news agency.
On Friday, however, 21 Syrians were released after it was "proved that they have nothing to do with the Free Syrian Army," a Mokdad family member told the NOW Lebanon news site.
Lebanese President Michel Suleiman warned against threatening the safety of people in Lebanon regardless of their national origin. At the same time, several Persian Gulf states, including some that support the rebels, urged their citizens to leave the country.
On Wednesday, armed men blocked the road leading to the Beirut airport with burning tires, forcing travelers to walk past gridlocked traffic to reach the terminal.
Lebanese Interior Minister Marwan Charbel said Friday that the airport road should be put under the control of security forces to prevent its closure again, according to the Lebanese Information Ministry.
Meanwhile, the investigation of former Lebanese Cabinet minister and parliament member Samaha continued this week. Samaha is a strong supporter of the Assad regime.
Samaha was arrested at his home Aug. 9 after security agents kicked in the front door and pulled him from his bed, the Associated Press reported.
Samaha, along with two Syrian army officers, is charged with trying to form an armed group to commit acts of chaos and sabotage and to sow sectarian strife through political and religious assassinations, according to the Information Ministry.
In New York on Friday, Algerian diplomat Lakhdar Brahimi replaced Kofi Annan as joint U.N.-Arab League peace envoy to Syria, the Associated Press reported.
Brahimi, 78, has worked in several high-profile U.N. positions, gaining a reputation as a tough, independent negotiator as envoy to Afghanistan, Iraq and Haiti. He helped negotiate the end of Lebanon's civil war.
Annan announced his resignation this month after failing to achieve a temporary cease-fire during a six-month tenure.
LA Times