Lebanon breaks with past in Syrian bomb probe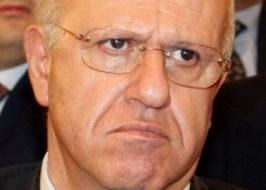 A plot hatched by Damascus and allegedly aimed at igniting a Lebanese civil war through a series of bomb attacks has come as little surprise in a nation where blame for political violence has often been laid at Syria's door.
The shock is that the Lebanese authorities have indicted someone, not least a friend of President Bashar al-Assad.
The arrest of former minister Michel Samaha in a case that has also produced indictments against two Syrian officials, one a top general, marks a major break with the past, when such action against Damascus or its Lebanese allies was unthinkable.
The story is captivating Lebanese accustomed to seeing political violence go unpunished. It is yet another example of how turmoil in Syria is rippling through a country where Damascus has played a major role for decades and whose future will be shaped by the outcome of the civil war next door.
Samaha's arrest signals a small but noteworthy change in a Lebanese establishment that might have previously thought twice before such a step, say analysts and politicians among both the pro- and anti-Syrian camps that dominate Lebanese politics.
"There is an atmosphere that has started to spread in Lebanon: the departure of fear," said Nabil Boumonsef, a columnist at the Lebanese newspaper An-Nahar. "It doesn't amount to a revolt against the Syrian regime, but the result is that Lebanese are no longer afraid to carry out their duties."
A politician who is part of an alliance of Lebanese parties loyal to the Syrian administration added: "The indictment itself indicates that matters have changed and there is disorder in the institutions after the crisis in Syria.
"Before, nobody could have arrested him in this way."
Held since August 9, Samaha has been accused of forming "an armed gang" that aimed to incite sectarian fighting. They had planned to target religious and political figures. The indictment makes the same charges against General Ali Mamlouk, a top Syrian security official, and a less senior Syrian officer.
The case evokes political violence dating back decades, including the 1977 assassination of Druze leader Kamal Jumblatt and the 2005 killing of Sunni politician Rafik al-Hariri, among a long list of others. If proven true, it will be a blow to Hezbollah, Syria's powerful, Iranian-backed Shi'ite ally.
The security agency which uncovered the plot said it seized larges amounts of explosives and cash. Leaks to Lebanese media have described the evidence as compelling.
A lawyer for Samaha said he could not comment on what is an ongoing investigation. Asked about media reports that Samaha had confessed, Malek al-Sayyid, the lawyer, said: "This falls under the secrecy of the investigation."
HEZBOLLAH SILENCE
Syria's opponents in Lebanon, some of them survivors of assassination attempts, have leapt on the case as proof of the nefarious role played by Damascus in a country that has been an arena for power struggles among foreign governments including the United States, Israel, Iran and Saudi Arabia.
Two Lebanese Christian politicians, both part of the anti-Syrian camp, say they have been the target of assassination attempts in recent months. Even some pro-Syrian politicians are appearing less in public out of apparent security concerns.
"They have done it before, why should they not do it again?" said Walid Jumblatt, accusing Syria of introducing political killing to Lebanon with his father's assassination.
The Samaha case has put new pressure on Prime Minister Najib Mikati's policy of "dissociating" Lebanon from the Syria crisis, which has triggered outbreaks of violence despite efforts to preserve the neutrality of the weak Lebanese state.
While Samaha's arrest may show a bolder approach in some state agencies, recent deportations of Syrian activists to Syria show that it is business as usual in parts of the establishment which Jumblatt said were still influenced by Syria.
"We don't control all our agencies," he told Reuters.
The agency that uncovered the bomb plot is one of those accused of being anti-Syrian. But the indictment was issued by the military prosecutor, a more broadly respected institution to which such high-level security cases are referred.
Hezbollah has said little on the case. Marwan Hamadeh, an anti-Syrian politician targeted by assassins in 2004, said that was telling. "It is noticeable and indicates that Hezbollah has some wise people, some people who are reading the geostrategic map of the region," he said in a televised interview.
Chicago Tribune