Suleiman: Lebanon danger is from within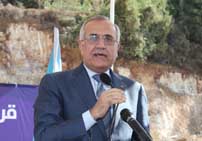 President Michel Suleiman warned of threats against Lebanon during a tour in Jbeil towns on Tuesday, but stressed that the main danger facing the country is from within, National News Agency reported.
"We can rectify the storm around us and we will. But the danger is from the small, filthy storm inside the [country]," Suleiman said without elaborating any further.
Suleiman praised the army officers and military personnel during his visit to the town of Ehmej.
"We paid the price for our freedom and democracy in order to maintain the values our grandfathers believed in and we are not willing to give up these values particularly in these days when countries surrounding us are heading toward democracy," the president added.
Now Lebanon