Blast near Syrian Army headquarters in Damascus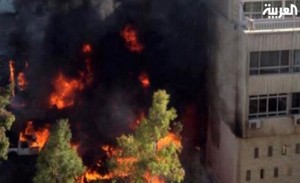 A bomb exploded close to Syria's army headquarters, sending a column of black smoke over the capital Damascus, as the U.S. accused Iran of training a new militia to ease pressure on Bashar al-Assad's government.
Explosives attached to an oil tanker blew up in a parking space at the army building, injuring three people, according to Syrian state television. Al Jazeera television broadcast footage showing smoke billowing into the sky over central Damascus. The United Nations said that while the explosion was close to a hotel housing its monitors, no one was hurt.
The attack came hours after U.S. Defense Secretary Leon Panetta accused Iran of training a new militia force drawn from the minority Shiite and Alawite communities to bolster Assad's government. The discovery of the force, known as "the Army of the People," is a matter of deep concern, Panetta told journalists in Washington.
A UN-brokered cease-fire, agreed to in April, has failed to halt fighting that's killed more than 21,000 people, according to the opposition Syrian Observatory for Human Rights. Syrian government forces killed at least 100 people yesterday according to the Local Coordination Committees, an activist group.
The Syrian armed forces are "taxed" after 18 months of fighting and "that's why Iran is stepping in to form this militia, to take some of the pressure off of the Syrian military," Army General Martin Dempsey, chairman of the Joint Chiefs of Staff, told the same meeting.
Enemy of God
Former Syrian Prime Minister Riad Hijab yesterday said the government is "collapsing emotionally and politically." Hijab made a public appeal for Syrian troops and officials still loyal to Assad to join the opposition and abandon the "enemy of God." It was his first public appearance since defecting from Syria earlier this month.
The Organization of Islamic Cooperation opened a two-day summit yesterday in the Saudi Arabian city of Mecca to consider further isolating Syria though exclusion from the 57-member group. Iran has set the scene for a diplomatic showdown by pledging to oppose the move.
The meeting is being attended by Iranian President Mahmoud Ahmadinejad together with leaders from other Muslim states who are being asked to agree the move as a response to Syria's civil conflict. Syria was suspended from the Arab League in November.
Bloomberg