Gemayel calls for UN forces on Lebanese-Syrian border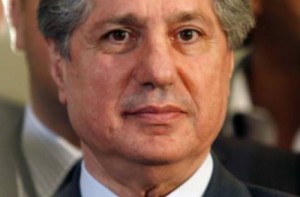 If a plot targeting Lebanese community leaders proves to be true, the country needs to reevaluate its security agreement with Syria, Ameen Gemayel, leader of the Phalange Party and former Lebanese President said on Monday in a press conference.
He also called for international peacekeeping forces along the Lebanese-Syrian border, apart from the 14,000 UN troops already deployed on Lebanon's borders with Israel. Beyond hasty initial declarations last Thursday, few senior politicians offered any assessments of the fate that befell the former Member of Parliament and Information Minister, Michel Samaha.
On Monday, Gemayel congratulated Internal Security Forces (ISF) chief Ashraf Rifi and Intelligence Bureau commander Wissam Al Hassan, on exposing the plot that targeted the Akkar region with fresh bombings against Christian as well as Muslim community leaders. In a wide-ranging press conference at his Bikfayyah summer residence, Gemayel warned against any interference in the ongoing investigations, and commended judiciary authorities for rejecting outside pressures.
He said that this particular security dragnet was a rare achievement, which could potentially be as significant as the Syrian withdrawal from Lebanon after the February 14, 2005 assassination of Prime Minister Rafiq Hariri. What stood out, affirmed Gemayel, was the Lebanese judiciary's courage to simultaneously hand out an arrest warrant to apprehend Ali Mamluk, Syria's National Security chief. Although ISF officials did not issue a formal confirmation as to whether Mamluk ordered Samaha to carry out the attacks, rumours to that effect continued to dominate the public discourse that, if documented, would further isolate Damascus' allies in Lebanon.
Gemayel boldly pointed out that this was "the first time that the Lebanese could determine that agents of the Syrian regime" were exposed, and it was critical to ensure that the judiciary withstood any and all efforts to politicise this grave development, distort facts, and offer platitudes that would further embolden criminals.
"Several leaders in Lebanon at the present time are threatened," said Gemayel, adding that "security conditions were particularly egregious and in need of the utmost attention."
Clear statement
He declared that there ought to be no differences between foreign agents who allegedly conspired with friendly or unfriendly countries, which was a veiled reference to the arrest, trial and incarceration of Lebanese citizens detained for cooperating with Israel. In the event, Gemayel requested the cabinet to convene quickly, tackle the alleged plot that targeted the country, and issue a clear statement in light of all known facts to date.
Gemayel asked whether the Lebanese-Syrian "fraternity has now been transformed into animosity," and insisted that what was now "required was to provide the League of Arab States and the United Nations Security Council with all available data on the putative security infringements by the Syrian regime of Lebanese sovereignty. Gemayel closed his press conference with references to the upcoming national dialogue session, ostensibly scheduled for August 16, reemphasising that his "main concern was the illegal Hezbollah weapons," adding that "the triptych of the people-army-resistance" could no longer be sustained. Without declaring whether the Phalangists would attend, Gemayel announced that the party "was in consultation with its allies to take a common position on participation in the dialogue session next Thursday."
By Joseph Kechichian
Gulf News