Violence increasing across Syria, UN Monitor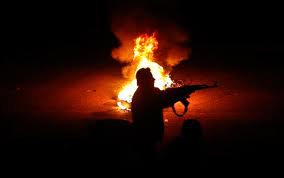 The head of the United Nations monitors in Syria said on Monday violence was intensifying across the country, blaming both President Bashar al-Assad's forces and rebel fighters for ignoring the plight of civilians.
"It is clear that violence is increasing in many parts of Syria," General Babacar Gaye, head of the U.N. Supervision Mission in Syria, told journalists in Damascus.
"The indiscriminate use of heavy weapons by the government and targeted attacks by the opposition in urban centers are inflicting a heavy toll on innocent civilians.
"I deeply regret that none of the parties has prioritized the needs of civilians."
Activists say more than 18,000 people, including soldiers, rebels and civilians, have been killed since the start of the Syrian uprising against Assad in March last year.
Assad's forces are battling to regain control of the biggest city, Aleppo, from rebel fighters who went on the offensive last month, seizing districts of the capital and the northern commercial hub, as well as several border crossings.
c rebels also control towns and villages in a wide swathe of territory near the northern border with Turkey.
Assad's forces have hit back, regaining much of Damascus and bombarding opposition strongholds in and around the capital. Residents reported overnight shelling from the Qassioun mountains overlooking north Damascus into Jobar neighborhood.
Activists also reported shelling in the northern Damascus suburb of Tell, which they say has been under rebel control for two weeks, and in Muadamiya suburb, where they said four men had been found executed after troops pulled out.
State television said the army was battling rebels in the city of Homs and had attacked "terrorist lairs" in the town of Talbiseh to the north.
The mandate for the U.N. monitors, whose original mission was to observe an April ceasefire that never took hold, expires on August 19. Their numbers have already been cut to a third because violence has made it impossible for them to move around.
"But the remaining 100 observers, along with our civilian colleagues, will operate till the last minute," Gaye said.
"I call on the parties to cease military operations and come to the (negotiating) table," he said, adding that he and his colleagues had delivered the same appeal in person to the government and the Syrian opposition abroad.
Reuters