Cameraman slain, Syria TV claims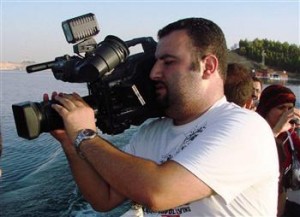 A pro-government Syrian TV station said Monday one of its cameramen who was kidnapped three days ago is believed to be dead while the others are being held by rebels near the capital Damascus.
Gunmen kidnapped the cameraman Friday along with three other employees of the pro-regime Al-Ikhbariya TV while covering the violence in the Damascus suburb of al-Tal, the station said. The three surviving members of the team appeared in an online video, saying they were being held by rebel forces who were treating them well.
A man who identified himself as a rebel spokesman also appeared in the video, saying the cameraman and two members of the Free Syrian Army rebel group had been killed in government shelling while on a tour in al-Tal to shoot destruction in the area.
It was impossible to independently verify the events shown in the video. But the general manager of Al-Ikhbariya TV said they believe the cameraman is dead. In June, gunmen raided Al-Ikhbariya's headquarters, killing seven employees.
The death came as activists reported clashes and shelling between government troops and rebels in areas including Damascus and its suburbs, the central province of Homs and the southern region of Daraa. The Britain-based Syrian Observatory for Human Rights said 30 people were killed so far Monday, 24 of them civilians while the others were soldiers or rebels.
Ball of flame
Activists also released a video which they said showed a government Soviet-made MiG warplane catching fire apparently after it was hit by ground fire over the eastern province of Deir el-Zour. The warplane appears to be turning into a ball of flame, although it was impossible to independently verify the video.
Rami Abdul-Rahman, who heads the Observatory, could not confirm the video, saying he was told by locals the rebels captured the pilot alive. Abdul-Rahman said he is waiting for another video that either shows the body of the plane or the pilot.
Activists say more than 20,000 people have been killed since the revolt began in March 2011.
Journalists have suffered a number of casualties in the 17-month-old uprising against President Bashar Assad, and in recent months there have been several attacks on pro-regime media. On Saturday, a reporter for state-run news agency SANA was killed in his Damascus home, while another working for the pan-Arab Al-Arabiya TV was killed in a blast in Tal.
CBC.CA
Photo: A undated photograph made available on Aug 11 shows Abdullah Tabra, a cameraman for pro-government al-Ikhbariya TV who was kidnapped on Aug 10 in the al-Tal area of Damascus. EPA Photo