Doctors in Syria war zones risk all to treat wounded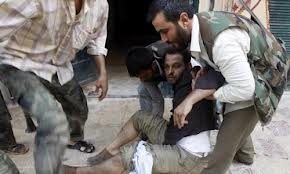 A week ago, British-Syrian doctor known as Abu Shamel was playing with his young son at home in Manchester.
Now he is crouching on a street corner in Syria's Aleppo, picking a sniper bullet out of a confused and screaming man as gunfire whizzes overhead and explosions echo in the background.
Fighters had dragged the victim from the shattered district of Salaheddine. They lay him down a few meters away on a black mattress and exposed his buttocks. Abu Shamel quickly pulls out the bullet, dresses the wound, and sends the man to a secret field hospital, still undetected by state forces.
Rebels in Syria's largest city badly need men like Abu Shamel since fighting began here more than two weeks ago. In the war zone much of this city has become, the opposition's medical supplies are scarce and casualties are mounting.
Abu Shamel, 37, has a thick salt-and-pepper beard and wears a blue-and-black chequered scarf around his head as he treats his patients. He speaks perfect Arabic and English.
When he heard there was a shortage of doctors to treat the victims of Syria's bloody 17-month-old revolt, Abu Shamel left his peaceful home in Manchester, England, with two colleagues. They headed to the frontlines of battle in his former homeland.
Like all medics who support the uprising against President Bashar al-Assad, he works in secret, avoiding state hospitals.
"Doctors don't refer civilians or fighters to public hospitals and civilians don't dare go there themselves. If you show up with a shrapnel or bullet wound, it means you are coming from Salaheddine or nearby neighborhoods, and that means you are a 'terrorist'," Abu Shamal says.
"We are all terrorists," he laughs darkly.
As mortar bombs explode nearby, Abu Shamel sits with six rebels wearing camouflage fatigues and holding assault rifles. He teaches them first-aid basics and then hands out packs of tourniquets and bandages.
"We prepared dozens of these bags to give away and funded them completely using donations we collected from colleagues and friends in Manchester," he says.
HOSPITALS UNDER FIRE
When he arrived, Abu Shamel was shocked by the number of civilians hit in the crossfire. He saw many children wounded in the stomach, head and chest by shrapnel or hurt when their homes collapsed on top of them after army shelling.
"I am a surgeon and my profession is to deal with blood daily. But in this place, I wept from what I saw," he says.
Doctors have abandoned well-equipped, sterile hospitals for tiny, makeshift field clinics spread around each neighborhood.
There are dozens of field hospitals hidden in Aleppo, especially in the hardest-hit area of Salaheddine, where army shelling has reduced much of the neighborhood to rubble.
The locations are all secret after the army bombarded some hospitals, including the al-Shrea hospital that was shelled three times and finally destroyed. Most doctors asked not to be identified for fear of retribution from the authorities.
Going to a state hospital is no longer an option for many people. The army controls the main hospitals, which activists believe are filled with Syrian security personnel.
"I saw wounded fighters arrive at one of these public hospitals and get beaten and arrested before being treated," one doctor said.
Outside one field hospital, a battered ambulance is parked. The left side is charred and riddled with bullet holes.
"Someone stuck a bomb on the bottom of the ambulance while we were bringing patients into the hospital," said the driver, Abu Ahmed. "Luckily it exploded when no one was inside."
SCARED BUT DEVOTED
There are few surgeons among the medics helping the opposition. Given the basic resources available, they aim only to keep critically wounded patients alive long enough to have them smuggled out to neighboring Turkey for treatment.
In one clinic with an overpowering smell of disinfectant, a doctor in green medical scrubs treats a nine-year-old girl shot in the waist. Lying on her side, the little girl's feet jerk a little as the doctor cleans the wound and bandages her up. A nurse shows the extracted bullet, small and golden.
In a musty basement elsewhere, Abu Shamel sits in a clinic where at least 15 wounded people are treated daily. The building has had no electricity for days. There is no x-ray machine, just a few shelves with medical supplies and an oxygen tank.
Alcohol swipes make do for sterilizing wounds, he says. Surgical tools are sterilized with flames.
"We are forced to work in a place like this where we are exposed either to shells or artillery or tanks. We have to be among the civilians to treat them," he says.
"Why is the government trying to target these people? Is it because they are poor or because they embraced the resistance?"
In an empty shop front forced open by rebels in Salaheddine near a street now controlled by Assad's forces, a lone doctor sits in the dim room as battles rage in the vicinity.
"Some days I wonder why I'm doing this," the doctor says, wincing when a tank shell explodes nearby.
"I'm very scared for myself, but what can I do? This is my duty. I have to help how I can."
Reuters
Photo: Medics who support the uprising against Assad work in secret, avoid state hospitals targeted by government forces.