Lebanon judge indictes Samaha, Assad security aides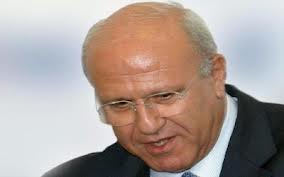 Judge Sami Sader , the government's deputy commissioner at the Military Tribunal, indicted former Information Minister Michel Samaha and Syrian National Security Bureau head Maj.General Ali Mamlouk for setting up an armed group to incite sectarian strife through "terrorist attacks," National News Agency reported on Saturday.
The indictment also included another Syrian army officer who was only identified as Brig. Gen. Adnan.
They were also indicted for plotting to assassinate political and religious figures in Lebanon and carry out terrorist attacks "by targeting the authority of the state and its civil and military institutions."
The indictment also charged the three men with working with Syria's intelligence to carry out aggression against Lebanon. Samaha was also charged with possessing weapons without a license.
NNA also reported that the judge referred the case to First Military Investigative Judge Riad Abu Ghida who later issued an arrest warrant against Samaha.
"The case against Samaha constitutes a clear and irrefutable condemnation, following his confessions of involvement in the transportation of explosives from Syria to Lebanon for use in terrorist attacks in areas in the north," a Lebanese security official was quoted as saying .
On Thursday, Lebanese security forces arrested Samaha in a case linked to a bombing plan aimed to create a strife in Lebanon
Following his arrest, several reports revealed that Samaha confessed under interrogation that he had transferred "explosives from Syria to Lebanon in order to carry out bombings in North Lebanon, particularly in the area of Akkar, with Syria's knowledge."
"This is what Bashar wants," Lebanese security sources quoted Samaha as saying of Syrian President Bashar Assad, in a video shot by a Lebanese undercover agent for the Internal Security Forces Information Branch.
He was referring to the bombing plan that was meant to be carried out in north Lebanon.
The security sources also said that, in the video, Samaha can be seen and heard as saying that Syrian Maj. Gen. Ali Mamlouk had handed him the bombs in addition to $170,000 cash that was meant to be distributed to would-be executors of the bombing plan in Lebanon.
Samaha is known for being a staunch ally of the Syrian regime and Hezbollah even years before he was appointed a minister in the cabinet. He was among several pro-Syrian Lebanese officials who were sanctioned in 2007 by the United States for "contributing to political and economic instability in Lebanon."
Last November Samaha criticized the sanctions against Syria as a further attempt to break up the country.
"The sanctions are aimed at deconstructing Syria and not to reform it ", he was quoted as saying.
March 8 denounces arrest
March 8th coalition which includes Hezbollah and the Free Patriotic movement have denounced the arrest of Samaha and considered it as part of March 14 campaign to target all pro-Syrian and pro-resistance groups.
Hezbollah MP Mohammad Raad criticized Samaha's arrest and said Thursday that some Lebanese judges were "associated with suspicious security agencies," New TV reported
"We will not remain silent over what happened today," Raad said in reference to Samaha's arrest
Similarly Justice Minister Shakib Qortbawi who represents Hezbollah ally General Michel Aoun in the cabinet criticized Samaha's arrest . He told NBN:
"The manner in which Samaha was arrested is unacceptable at all and I will request the acting general prosecutor to investigate the matter."
The Iranian and Syrian backed Hezbollah militant group is a staunch supporter of the Syrian regime in its crackdown against the pro democracy protesters . Over 21000 Syrians, mainly civilians have been killed since the uprising erupted 17 months ago, according to activists.