Syrian and Jordanian forces clash in border area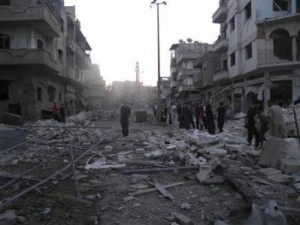 Syrian and Jordanian forces clashed along the border overnight in an incident that highlighted international concerns that the civil war in Syria could ignite a wider regional conflict.
U.S. Secretary of State Hillary Clinton stepped up efforts to tackle the worsening Syria crisis on Saturday when she arrived in Turkey for talks with Turkish Prime Minister Tayyip Erdogan and members of the Syrian opposition.
Troops loyal to Syrian President Bashar al-Assad tried to snuff out resistance in Aleppo, the country's biggest city, but rebels said they would hit back despite having lost ground and run low on ammunition.
"We can handle the bombing," rebel commander Abu Thadet said in Aleppo. "It's the snipers that are making it hard."
The border clash broke out after Syrian refugees tried to cross into Jordan, a Syrian opposition activist who witnessed the fighting said.
Syrian troops fired across the frontier and fighting ensued, a Jordanian said. No one was reported killed on Jordan's side.
Armoured vehicles were involved in the clash in the Tel Shihab-Turra area, about 80 km (50 miles) north of the Jordanian capital Amman, the Syrian activist said.
Jordanian troops have fired near the border in the past to stop Syrian forces shooting at fleeing refugees.
But the latest clash – the most serious incident between the two countries since the uprising against Assad began 17 months ago – is likely to alarm Western powers who fear any spread of violence in a region divided over the conflict.
Assad, who is allied to Irans, is fighting to crush a rebellion that aims to end his family's four decades in charge of Syria. A member of the country's Alawite minority, he is battling mostly Sunni Muslim foes who Damascus says are backed by Sunni-led states such as Saudi Arabia, Qatar and Turkey.
REBELS REGROUP
Syria's long border with Jordan has been an escape route for Assad opponents, including Prime Minister Riad Hijab who defected this week.
In Aleppo, Syria's economic hub and a crucial arena in the conflict, rebels were regrouping at the headquarters of the Seyoof al-Shahbaa brigade after retreating from Salaheddine – the district that controls access to the city from the south.
They were preparing to return to the district, a former rebel stronghold, to join other fighters.
"The reason we retreated from Salaheddine this week is due to a lack of weapons," commander Thadet said.
Weapons merchants say they are out of stock and bullet prices have gone up 70 percent in the past two days, Thadet told Reuters.
Fighting has ebbed and flowed over the past week but Assad's forces were in control of much of Salaheddine on Saturday.
Thadet leads a brigade of 30 fighters but 10 are wounded, mostly by sniper fire. Snipers are positioned even in areas that rebels claim to control.
His men have broken down walls within apartment buildings to make covered paths through Salaheddine as the open streets are too dangerous.
While Assad's grip on the country has been eroded as the uprising has gathered momentum, his forces have consistently demonstrated their overwhelming firepower advantage against lightly armed rebels.
NEW SANCTIONS
In Damascus, residents reported shelling of the southeastern district of Shebaa and said nine tanks could be seen on the road heading out to the airport. Forces in the capital have been much more efficient at rooting out rebels than in Aleppo, a city of 2.5 million where fighters have flooded in from rural regions.
The United States imposed a new round of sanctions on Friday that targeted Syria's state-run oil company Sytrol for trading with Iran, and the Lebanese Shi'ite militant group Hezbollah for aiding the Syrian government.
Repeated rounds of U.S. and European sanctions, announced every few months, have had a negligible impact on the war. Russia and China have blocked U.N. Security Council action that would have allowed tighter, global sanctions against Damascus.
"There will be no winner in Syria," U.N. Secretary General Ban Ki-moon said in a statement on Thursday. "Now, we face the grim possibility of long-term civil war destroying Syria's rich tapestry of interwoven communities.
Diplomats said veteran Algerian diplomat Lakhdar Brahimi could be named next week to replace the U.N.-Arab League envoy to Syria, Kofi Annan, who quit after his peacemaking efforts proved futile in the face of Security Council division.
Reuters
Photo: Residents stand among the ruins of buildings destroyed in what activists said was an air strike by the Syrian Air Force at al-Khalidiah neighborhood in Homs August 11, 2012. REUTERS/Shaam News Network/Handout