Michel Samaha transferred to military court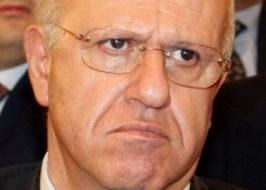 Former Lebanese Information Minister and Parliament member Michel Samaha was transferred to military court on Saturday morning, National News Agency reported.
On Thursday, Lebanese security forces arrested Samaha in a case linked to a bombing plan aimed to create a strife in Lebanon
Following his arrest, several reports revealed that Samaha confessed under interrogation that he had transferred "explosives from Syria to Lebanon in order to carry out bombings in North Lebanon, particularly in the area of Akkar, with Syria's knowledge."
"This is what Bashar wants," Lebanese security sources quoted Samaha as saying of Syrian President Bashar Assad, in a video shot by a Lebanese undercover agent for the Internal Security Forces Information Branch.
He was referring to the bombing plan that was meant to be carried out in north Lebanon.
The security sources also said that, in the video, Samaha can be seen and heard as saying that Syrian Maj. Gen. Ali Mamlouk had handed him the bombs in addition to $170,000 cash that was meant to be distributed to would-be executors of the bombing plan in Lebanon.
Hezbollah and its allies at FPM criticized Samaha's arrest
Samaha is known for being a staunch ally of the Syrian regime and Hezbollah even years before he was appointed a minister in the cabinet. He was among several pro-Syrian Lebanese officials who were sanctioned in 2007 by the United States for "contributing to political and economic instability in Lebanon."
Last November Samaha criticized the sanctions against Syria as a further attempt to break up the country.
"The sanctions are aimed at deconstructing Syria and not to reform it ", he was quoted as saying.