Samaha's arrest over bombings plan angers Hezbollah, allies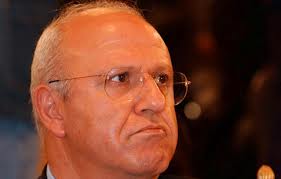 Former Lebanese MP and Information Minister Michel Samaha who was closely associated with the embattled Syrian regime  was detained by Lebanese Internal Security Forces Intelligence Branch for interrogation on Thursday over a "sensitive" security-related matter, media reports said Thursday.
LBC television reported that Samaha confessed during  interrogation that he had transferred "explosives from Syria to Lebanon in his Mercedes car ( that was confiscated by the police on Thursday following his detention) in  order to carry out bombings  during Ramadan iftars in North Lebanon, particularly in the area of Akkar, with Syria's knowledge."
He also confessed that  "The explosives were handed over to a person from the Al-Kfoury family" (  who was also arrested yesterday ," LBC  reported.
Samaha also confessed to receiving his orders from Syrian Brig. General Ali Mamlook
Furthermore, the report said that Samaha's driver, identified as Fares Barakat, gave statements to the security forces confirming the former Information Minister's involvement in the "bombings plan."
The driver's confessions later led to Samaha's detention, according to LBC.
The security forces seized two of Samaha's vehicles, a computer and several items, including CDs and videos, from both houses.
Al-Jadeed television said Samaha's arrest was based on a videotape that revealed his involvement in planning attacks in the North.
And a security source told Future TV that Samaha was plotting bombings aimed at "stirring a Sunni-Alawite strife and a Sunni-Christian strife."
Samaha's  arrest  came upon instructions by acting General Prosecutor Samir Hammoud for "security reasons" which MTV said were linked to an assassination attempt against al-Mustaqbal bloc's Akkar MP Khaled al-Daher to create civil strife.
Samaha is known for being a staunch ally of the Syrian regime and Hezbollah. He was among several pro-Syrian Lebanese officials who were sanctioned in 2007 by the United States for "contributing to political and economic instability in Lebanon."
Last November Samaha criticized the sanctions against Syria as a further attempt to break up the country.
"The sanctions are aimed at deconstructing Syria and not to reform it ", he was quoted as saying
Samaha and other supporters of the Syrian regime said they expected the impact of the sanctions to be limited, in large part because Syria's largest trading partners will not join them. A possible reference to Iran, Russia and China.
Arrest angers Hezbollah, allies
Hezbollah MP Mohammad Raad criticized  Samaha's arrest and  said Thursday that some Lebanese judges were "associated with suspicious security agencies,"   New TV reported
"We will not remain silent over what happened today," Raad said in reference to Samaha's  arrest
Similarly Justice Minister Shakib Qortbawi  who represents Hezbollah ally General Michel Aoun  in the cabinet  criticized  Samaha's arrest . He told NBN:
"The manner in which Samaha was arrested is unacceptable at all and I will request the acting general prosecutor to investigate the matter."
The Iranian and Syrian backed Hezbollah militant group is  a   strong support of the Syrian regime in its crackdown against the pro democracy protesters . Over 21000 Syrians,  mainly civilians have been killed since the uprising erupted 17 months ago.
Update: Future TV reported that Syrian president has been contacting his key allies in Lebanon urging them to try and free Samaha at any cost .
Update: The bombing plan includes 24 remotely controlled bombs planted in various locations . Four of the bombs weighed between 15 to 20 kg ( 33- 44) lbs while the remaining 20 ranged between 1.5 to 2 Kg ( 3.3 to 4.4) kg