Historic Aleppo citadel hit by shelling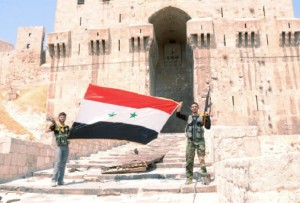 Shelling by the Syrian army has damaged Aleppo's historic citadel, part of a world heritage site in the heart of the commercial capital, the exiled opposition said on Friday.
"Photographs by activists and archeological associations show that the Aleppo citadel… has been damaged," the Syrian National Council said in a statement.
One photograph distributed by the group appeared to show damage to the citadel's entrance.
"The way in which the shell hit the main entrance of the fortress and broke the marble panel bearing its name suggests that the Syrian regime intentionally targeted the site," the SNC charged.
"Only regime loyalists have the kind of shell that hit."
Aleppo's old city has been listed by the UN Education, Scientific and Cultural Organisation as a World Heritage Site since 1986.
The listing says that the 13th-century citadel, 12th-century Great Mosque and 17th-century Islamic schools, palaces, caravanserais and bathhouses are of "outstanding universal value."
It was not immediately possible to independently verify the opposition's claim of damage to the citadel.
The Syrian army has shelled the area around the fortress several times in recent days as part of its three-day-old ground offensive against rebels in the city, according to the Syrian Observatory for Human Rights.
Troops again bombarded a string of rebel-held areas early on Friday, as fighting continued in the southwest on the outskirts of Saleheddin district, which the rebels pulled back from on Thursday, the Britain-based watchdog said.
It said two civilians were killed in the fighting in Aleppo on Friday morning, among 11 people killed in violence nationwide.
Khaleej Times/ AFP