'Fresh clashes' in Egypt's Sinai region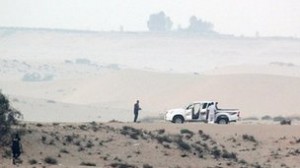 Fresh fighting has broken out between gunmen and police in Egypt's Sinai peninsula, according to state TV.
The clashes near a police station in the city of al-Arish come a day after the Egyptian military launched an offensive against suspected Islamist militants in the region.
The offensive followed the killing of 16 border guards on Sunday.
The Egyptian president sacked the country's intelligence chief and the province's governor on Wednesday.
Nile News TV said on Thursday that "clashes resumed between armed men and police forces in front of police station number two in al-Arish".
There are no reports as yet of casualties.
The violence began on Sunday, when militants carried out the deadliest and most brazen attack against Egyptian troops in the Sinai region for decades.
Further attacks on checkpoints in al-Arish on Wednesday left a number of people wounded.
The military offensive was then launched hours later.
According to military officials, 20 people were killed in the village of Touma, while the Sheikh Zuwaid area to the west was also hit.
The offensive continued on Thursday, according to state news agency Mena, with a focus on the al-Arish, Sheikh Zuwaid and Rafah areas.
The offensive followed criticism of President Mohammed Mursi for not taking decisive action.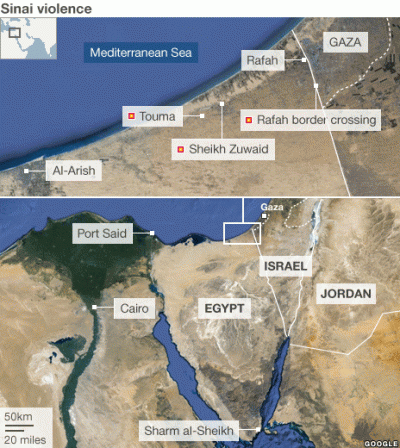 BBC