Former pro-Syrian minister, MP arrested in Lebanon, updates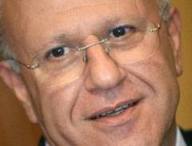 Former Lebanese MP and Information Minister Michel Samaha was detained by Lebanese Internal Security Forces Intelligence Branch for interrogation on Thursday over a "sensitive" security-related matter, his wife and media reports said today.
Security Forces reportedly raided his residences in Ashrafieh, Beirut, and Jwar al-Khenshara , Metn, early Thursday upon orders from Acting Prosecutor General Samir Hammoud.
Samaha, 64, was taken from his Khanshara home at 2 a.m., the reports said
Samaha's wife told LBC TV that the former minister was still in bed and in his pajamas when the security forces dragged him out and forced him into one of four vehicles waiting outside his Jwar al-Khenshara house.
Lebanese National News Agency also reported on Thursday that the security forces had raided Samaha's residence in Beirut and searched it before undertaking the raid on his residence in Jwar al-Khenshara.
Both residences are still being searched for incriminating evidence.
There is a lot of speculation over Samaha's detention
MTV said Samaha was detained over his alleged involvement in the assassination attempt against Akkar MP Khaled Daher, a member of the Future bloc.
But Daher later told MTV that he was surprised by the report. "I don't have any information about this case," he said.
Others reported that he may have been arrested for collaboration with Israel. But LBCI said such reports were inaccurate.
Samaha is known for being a staunch ally of the Syrian regime and Hezbollah. He was among several pro-Syrian Lebanese officials who were sanctioned in 2007 by the United States for "contributing to political and economic instability in Lebanon."
Last November Samaha criticized the sanctions against Syria as a further attempt to break up the country.
"The sanctions are aimed at deconstructing Syria and not to reform it ", he was quoted as saying
Samaha and other supporters of the Syrian regime said they expected the impact of the sanctions to be limited, in large part because Syria's largest trading partners will not join them. A possible reference to Iran, Russia and China
Update: Voice of Lebanon radio station reported on Thursday that the Syrian Social Nationalist Party (SSNP) members may bloc the roads leading to Jwar al-Khenshara to protest against Samaha's arrest.
Update 2: Samaha's car a Mercedes Bennz model 600 with plate number 7778777 was confiscated by the security forces.
Update 3: Samaha's driver Fares Barakat was arrested for interrogation
Update 4: PM Nagib Mikati told a delegation representing the editors association that Samaha was arrested for security reasons and we are waiting for the judicial investigation
Update 5: Gladys Samaha , Michel Samaha's wife told reporters : He was arrested for political reasons because he represents a political line in the region and a political group in Lebanon and I expect this group to make a move. A possible reference to the Iranian and Syrian backed Hezbollah-led March 8 alliance