Egypt's president fires intelligence chief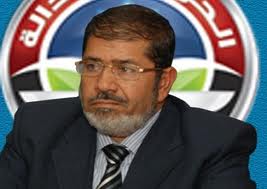 Egyptian President Mohammed Morsi fired his intelligence chief and the governor of Northern Sinai on Wednesday following a weekend attack by suspected militants in Sinai who killed 16 soldiers.
In a major shake-up, Morsi also asked Defense Minister Hussein Tantawi to replace the commander of the military police, a force that has been heavily used since the ouster 18 months ago of Hosni Mubarak to deal with street protests. Rights activists have accused the military police of brutality against protesters.
Morsi also fired the commander of the presidential guards and ordered new chiefs for security in Cairo and the police's large central security, a large paramilitary force often deployed to deal with riots.
Large swathes of northern Sinai have plunged into lawlessness following Mubarak's ouster, with a massive flow of arms smuggled from Libya finding their way into the hands of disgruntled Bedouins. The lawlessness is coupled with the rise in the area of al-Qaida-inspired militant groups that are waging a campaign of violence against Egyptian security forces. They have also staged several cross-border attacks on Israel.
Wednesday's decisions were announced hours after Egyptian attack helicopters carried out missile strikes against militants in Sinai as part of an offensive to restore control over the territory, according to a military statement. The use of air power marked a sharp escalation in Egypt's fight against the militants, who have become increasingly active in the mountainous and desert Sinai peninsula bordering Israel and Gaza.
In a statement read out on state TV, the military said it has started a joint military-police ground operation in Sinai, backed by warplanes, to "restore stability and regain control" of the Sinai.
Morsi's decision to fire senior officials was the Islamist president's first major assertion of his authority since taking office on June 30 to succeed Hosni Mubarak, who ruled Egypt for 29 years before he was ousted in a popular uprising in February 2011. The decision appeared aimed at deflecting a wave of popular anger over the Sinai attack, the deadliest attack ever on the military from within Egypt.
The generals who took over from Mubarak and ruled Egypt for 17 months stripped the presidency of many of its powers just before Morsi was declared the election winner and they retained those powers for themselves.
However, Wednesday's decisions were taken following a meeting of the National Defense Council which includes Morsi, top army commanders and senior intelligence officials. The decision-making at that meeting reflects a level of cooperation between the president, a longtime leader of the Muslim Brotherhood, and the powerful generals in the face of rising tensions.
Military officers outnumber civilians on the newly created council, which takes decisions by a simple majority. That means that the powerful generals were on board for all the decisions made Wednesday.
The surprise changes followed the killing on Sunday of 16 soldiers at a post in Sinai close to where the Egyptian, Israel and Gaza borders meet. It raised questions about the readiness of Egyptian forces in the area, particularly after Israel warned the country several days earlier an attack was imminent.
The attackers killed the soldiers as they were breaking their daily fast for the holy month of Ramadan with a sunset meal. The attackers commandeered an armored vehicle which they later used to storm across the border into Israel. They were then targeted by an Israeli airstrike that killed at least six militants.
The intelligence chief that Morsi fired, Murad Muwafi, was quoted in Wednesday's newspapers as saying his agency was aware of the Israeli warning but did not think that Muslims would attack Muslims while they were breaking their fast during Ramadan.
Surprisingly, Morsi did not attend the state funeral given to the troops on Tuesday, drawing harsh criticism in the media and on social networks.
Morsi may have stayed away for security concerns. At the funeral secured by military police, some mourners chanted slogans against Morsi. Prime Minister Hesham Kandil was heckled and some mourners threw their shoes at him or held them up as a sign of contempt.
AP/ Business Week