Lebanon PM: No problem if cabinet collapses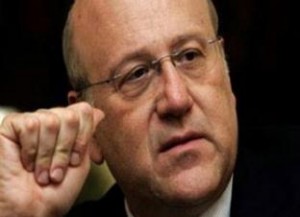 Lebanese Prime Minister Najib Mikati said in remarks published on Sunday that he has "no problem" if the cabinet collapsed.
"Let the cabinet collapse … I do not have a problem with that," Mikati told An-Nahar newspaper.
The premier added that internal political arguments obstructed the productivity of the cabinet, especially when the matter of improving public services was concerned.
Mikati also commented on the deportation of 14 Syrians earlier this week and defended the move, saying that they were handed over after the required logistic measures were taken.
"Handing them over has nothing to do with politics or with current events in Syria," he added.
He also said that Lebanon rejected "Syrian authorities' requests to hand over Syrians detained in Lebanon over charges related to political issues."
In 2011 Hezbollah brought down the government of former PM Saad Hariri and reportedly used its arms to force progressive socialist party leader MP Walid Jumblatt and his parliamentary bloc to vote for their candidate Mikati as the new premier .