Syria conflict: Aleppo conflict sees 'escalation'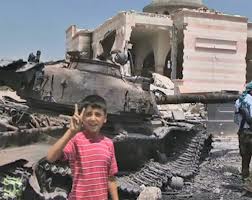 The UN says fighting in Syria's embattled city of Aleppo has increased significantly in the past few days.
Sausan Ghosheh of the UN mission in Syria told the BBC that opposition forces were now in possession of heavy weapons, including captured tanks.
She urged both sides to show restraint and to distinguish between civilians and fighters in the conflict.
Meanwhile, reports suggest army troops have killed 35 people near Damascus, most of them unarmed civilians.
They died after government forces shelled and overran the neighbourhood of Jdeidet Artouz, southwest of the capital, on Wednesday, activists and residents told Reuters.
On Wednesday, video footage emerged apparently showing the public shooting of four Assad loyalists by rebels in Aleppo, sparking criticism from human rights groups.
'Restraint'
More than 200,000 people have fled Aleppo in recent weeks, the UN says, as government forces battle to oust Free Syria Army (FSA) rebels from the country's biggest city.
The rebels appear to control large parts of the city despite government assertions that they have suffered heavy losses.
The UK-based Syrian Observatory for Human Rights reported 135 deaths on Wednesday while the Local Coordination Committees gave a figure of 170.
"In the last 72 hours we saw a significant increase in the level of violence. Our observers are reporting heavy exchanges of fire," Ms Ghosheh said on Wednesday.
"They also reported the use of helicopters, tanks, heavy machine guns and artillery. Yesterday, for the first time we saw firing from fighter aircraft."
She confirmed reports that the FSA was "in possession of heavy weapons including tanks" in the city.
The BBC's Jim Muir in neighbouring Lebanon says there are reports that the FSA may have been given shoulder-fired anti-aircraft missiles, which could reduce the threat posed by government helicopter gunships.
Bloody footage
The opposition Syrian National Council has criticised rebel gunmen for killing several prisoners who were said to belong to a pro-government militia in the city of Aleppo, after footage emerged of the incident.
Human Rights Watch has said the incident could potentially be a war crime.
Video posted online shows the men, some of them bruised and bloodied, being put up against a wall half-naked and shot with Kalashnikov rifles.
One of the men killed has been identified as Ali Zeineddin al-Berri, known as Zeno, accused of leading a pro-regime shabiha militia group which killed 15 FSA fighters during a truce in Aleppo on Tuesday.
Abdullah Omar, a cousin of a rebel fighter who had been killed by the militia, said it was naive to imagine that the rebels would have the same standards as a regular army.
"We have to remember of course that the FSA is predominantly made up of defectors from Syria's army and it is absurd to imagine that merely by defecting they will magically transform themselves into an organisation that adheres by international standards of warfare."
'Covert order'
Meanwhile, Reuters news agency reports that President Barack Obama approved an order earlier this year authorising US support for Syria's opposition.
The intelligence "finding", as the order is called, allows the CIA and other agencies to aid the rebels, US sources told the news agency.
The White House – which declined to comment on the report – has openly expressed support for the opposition, but has stopped short of providing arms.
Activists estimate some 20,000 people have died since March last year.
Russian President, Vladimir Putin, is arriving in the UK on Thursday and is expected to discuss the Syrian crisis with Prime Minister David Cameron.
BBC
Photo: A child stands in front of a destroyed tank and mosque in Aleppo.