US slams Assad as 'cowardly' for urging troops to fight on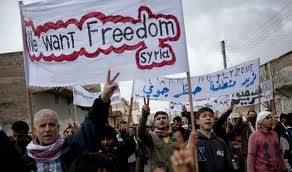 The United States Wednesday denounced Syrian President Bashar al-Assad as "cowardly" and "despicable" for calling on his forces to continue the fight against opposition rebels.
"We think it's cowardly quite frankly to have a man who's hiding out of sight be exhorting his armed forces to continue to slaughter the civilians of his own country," said a US State Department spokesman, Patrick Ventrell.
"We think it's despicable to be exhorting his armed forces to continue this slaughter, and this bloodshed," Ventrell said, reacting to a speech by Assad published by Syria's official news agency SANA.
Earlier Wednesday Assad said that the Syrian army was engaged in a "crucial and heroic battle… on which the destiny of the nation and its people rests" in a speech marking the 67th anniversary of the army.
"The enemy is among us today, using agents to destabilize the country, the security of its citizens… and continues to exhaust our economic and scientific resources," Assad said.
Damascus does not recognize the popular revolt that erupted in March 2011, describing opposition activists and rebels of the Free Syrian Army (FSA) alike as "armed terrorist groups" financed by foreign powers and sent to sow chaos.
AFP