UN confirms Syrian opposition has "tanks" in Aleppo
The UN Supervision Mission in Syria said it's deeply concerned about the situation in Aleppo city, confirming that the armed rebels, for the first time, are in possession of heavy weapons including tanks.
In briefing Wednesday, Sausan Ghosheh told reporters that the UN mission in Syria has confirmation that "the opposition is in possession of heavy weapons including tanks."
Ghosheh said the UN supervision mission is "very deeply concerned about the heavy fighting that is going on in Aleppo."
"We have reports… that there has been heavy use of heavy weapons including tanks and heavy machine-guns as well as artillery," she said, confirming that "yesterday for the first time saw firing from a fighter aircraft."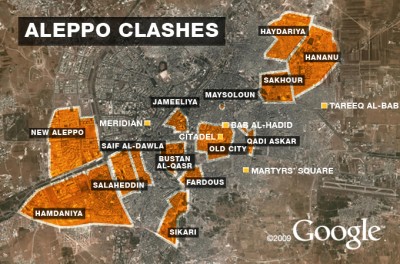 She said the humanitarian situation is deteriorating in Aleppo, adding that "there are some civilians who are trapped in the crossfire; there are others who are seeking refuge and shelter in schools and hospitals and public buildings, safer neighborhoods."
She said there is shortage of food, fuel, water and gas, and called on all parties to exercise utmost restrain.
More than 200,000 people have fled Aleppo, according to the UN and Nesirky said many of the inhabitants remaining have taken shelter in schools and other public buildings.
Xinhua