Syria's Maleh to form a 'government in exile', update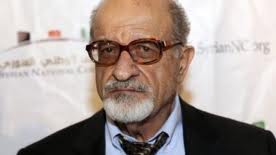 Syrian opposition figure Haytham al-Maleh told reporters on Tuesday that he has been tasked with forming a government in exile based in Cairo.
"I have been tasked with leading a transitional government," Maleh said, adding that he will begin consultations "with the opposition inside and outside" the country.
Born in 1931, Maleh is a Syrian democracy activist and former judge. He is a critic of the current Syrian regime under Bashar al-Assad and has been imprisoned by the Syrian government as a political prisoner on several occasions since the 1960s. Maleh was a key member of the Syrian National Council opposition.
France 24
Update:
Divisions among opposition groups
According to New York Times newspaper , divisions among opposition groups appeared to deepen after The Council of Syrian Revolutionary Trustees, which is an offshoot of the Syrian National Council, the main opposition group in exile, nominated Maleh, one of its own leaders to form a transitional government.
Maleh is arguing that a new government must be formed immediately to avoid a "political or administrative void" once Assad's government was toppled.
Maleh said his group would move to Aleppo after what he called its liberation from Assad government control.