Syria relocates nerve gas: report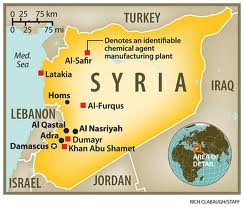 SYRIAN authorities have shifted ammunition containing lethal nerve gas away from the city of Homs and other scenes of fighting with rebels, according to German intelligence, news magazine Der Spiegel reported on Sunday.
Spiegel quoted an assessment by the German foreign intelligence service BND as saying that part of the chemical arsenal had been shifted from a military airfield near Homs, a rebel stronghold, to a more secure storage site.
This relocation was not a deployment, but a protective move, the assessment said.
The BND data said the weapons contained VX and sarin, two gases that paralyse and kill. The rebel Free Syrian Army recently said the regime was moving chemical weapons to airports.
Western intelligence services said trusted guards from President Bashar al-Assad's Alawite community had been assigned to positions near the stocks, according to Spiegel.
The Western services estimated Syria's military possessed about 1,000 tonnes of such toxins.
A large proportion of the arsenal was stored at Safir military base, about 20 kilometres outside Aleppo, where pitched battles were under way between rebels and government forces.
Israeli Foreign Minister Avigdor Lieberman said this week that Israel would intervene militarily if Syria's Lebanese ally Hezbollah obtained the weapons.
But the intelligence assessment said it was unlikely that Hezbollah had done so.
Israel's military chief of staff, Benny Gantz, said on Tuesday that Damascus was in full control of the stocks.
Syria this week threatened to use such weapons against "external aggression", but never against its civilians.
The comments sparked international condemnation, and a day later Damascus said without any qualification that it would "never use chemical and biological weapons".
The Australian