SNC demands arms, says Assad should be tried for massacres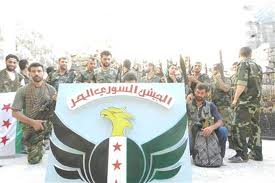 The head of the exiled Syrian opposition called on Saturday for the rebels to be armed, insisting that President Bashar al-Assad should be tried for 'massacres' and not be offered asylum in any future solution.
Syrian National Council ( SCN) chief Abdel Basset Sayda also said that the opposition will discuss a proposed transitional government with rebel forces.
"We want weapons that would stop tanks and jet fighters. That is what we want," he said following talks in Abu Dhabi as regime forces launched an all-out assault on the northern city of Aleppo.
He urged Arab 'brothers and friends to support the Free (Syrian) Army' saying the support should be 'qualitative because the rebels are fighting with old weapons'.
He said that the rebellion needs support in order to achieve a 'significant change' in the uprising that began in March last year.
"There should be relief support, but also support that allows this people to defend itself against the machine of killing," he said.
Sayda pointed out that the opposition needs a minimum of $145 million monthly to provide basic needs, while it has received only $15 million over several months.
He thanked oil-rich Saudi Arabia for organising a five-day fundraising campaign which concluded on Friday after collecting over $72 million.
Sayda meanwhile said that any future plan should not include an amnesty to the Syrian leader, saying he should be put on trial.
"The Yemeni example can't be applied in Syria," he said, referring to the amnesty given to former Yemeni president Ali Abdullah Saleh following mass protests.
"There are massacres being committed. We believe Bashar al-Assad should be tried. He is a criminal and should not be given a shelter," he added.
The SNC chief said the council would discuss a proposed transitional government with rebel groups on the ground, adding that its leader should be someone who had been committed to the uprising from the start, in an apparent rejection of giving General Manaf Tlass, who defected earlier this month, a leading role.
"We are studying the idea (of transitional government) and we will contact all forces on the ground in Syria," he said.
The leader should be an "honest and patriotic person… committed to the objectives of the Syrian revolution since its beginning," he said.
He said that coordination would be in the first instance with groups on the ground when he was asked about coordination with Tlass, the highest ranking officer to abandon the regime of Assad.
"We want a government that is strong and capable of managing the situation," he said.
Sayda warned of 'massacres plotted by the regime' against Aleppo, holding 'brothers and friends responsible if they do not act'.
Pro-government daily Al-Watan had warned the "mother of all battles" loomed in Aleppo as the government moved to reassert its authority after recapturing rebel-held districts of Damascus.
Sayda also said that future diplomatic action against the regime of Assad will be through the UN General Assembly in September.
"Next move should be taken outside the UN Security Council… We should go to the General Assembly," he said as Russia and China continue to block punitive measures against Assad through the UN Security Council.
Asian Age