Poland closes embassy in Syria , evacuated its diplomats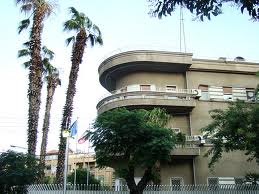 Poland has closed its embassy in Syria and evacuated its diplomats because of the deteriorating security situation in Damascus. The embassy had also representing U.S. interests in the country in recent months.
Polish Foreign Minister Radek Sikorski said he took the decision out of concern for the security of the embassy's staff, who have already left Syria.
"The decision was taken due to the dramatically worsening crisis in Syria, which has led to the deterioration of security and has made it impossible for Polish diplomats to carry out their duties," Sikorski told a news conference in Warsaw.
U.S. Ambassador to Poland Lee Feinstein expressed thanks to the "government and the people of Poland for their act of friendship and solidarity" in having represented Washington in Damascus since Feb. 6.
"The brave Polish diplomats who served in the U.S. Interests Section helped keep U.S. citizens safe during a dangerous and difficult time," Feinstein said in a statement. "For this we owe Poland a debt of gratitude."
Sikorski said the embassy will reopen as soon as security conditions allow it.
Many countries closed their embassies in Damascus months ago, protesting the Assad regime's brutal crackdown on protests and citing security concerns. The United States was among the first, pulling out its ambassador in February. Canada and several European nations followed in March, as did Turkey, once a key ally of Syria. Among Arab nations, Qatar was the first, closing its embassy in July 2011, followed by Saudi Arabia and Bahrain this year.
Huffington Post