MP Maalouf: Lebanon FM justifying Syrian incursions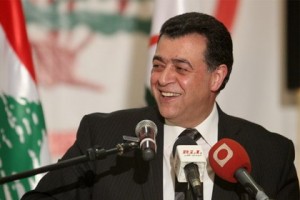 MP Joseph al-Maalouf said Friday that Foreign Affairs Minister Adnan Mansour was justifying the Syrian incursions into Lebanese territories, in addition to the killing of journalists.
"What is noticeable is that Mansour is justifying the Syrian violations against Lebanon; in addition to the killing of journalists," Maalouf who represents the Lebanese Forces in the parliament told the Free Lebanon radio.
Al-Jadeed   ( New)  TV cameraman Ali Shaaban was shot by gunfire coming from Syrian territory in the northern Lebanese town of Wadi Khaled last  April.
Maalouf's  comments come after President Michel Suleiman accused Syria  on Monday of violating Lebanese territories and requested Mansour to send a letter of complaints to Syrian Ambassador to Lebanon Ali Abdul Karim Ali to address the issue.
Mansour said on Wednesday that he handed over a letter to the Syrian envoy but that "the letter will not include complaints, but rather a comment on a number of violations that happened unintentionally."
Mansour comes from the Shiite Muslim Amal Movement party which, along with the militant Hezbollah group, supports the embattled Syrian president Bashar al Assad.
The current Lebanese government is dominated by Hezbollah and was reportedly made in Syria.
Mansour has been accused on several occasions of acting on orders from Syria , but since Hezbollah dominates the cabinet prime minister Najib Mikati cannot fire him.