Hezbollah joins the fight against Syrian rebels, report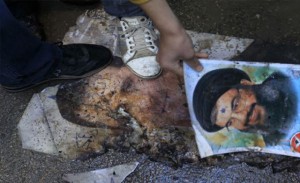 Hezbollah fighters have lately crossed the area of Hawsh al-Sayyed Ali in Hermel to Syria to help Syrian government troops in their crackdown against the pro-democracy protesters and fight against the rebels, security sources told An Nahar newspaper
According to An Nahar report published on Friday militants from the 910 unit of Hezbullah's Jihad Council are fighting alongside the Syrian forces in the areas of al-Qussair, Homs and al-Rastan.
Hezbollah has also a strong military presence in the area of Zabadani, the security sources said.
Hezbollah has publicly tied its future to Bashar al-Assad, but as the tide turns against the Syrian president the party has been silent on whether it will join the fight to support him.
The stakes are high for the group which fears that toppling Assad will pave the way for increased Western pressure – if not war – on its strongest ally and founder, Shiite Iran. By losing Assad the group would also be deprived of its strategic partner and main supply line for its arsenal.
Hezbollah has shown no sign of abandoning Assad and Lebanese officials close to the group predicted that it won't stand idle if the battle worsens.
"They do not have a choice – they are with the regime until the last minute. This is a strategic alliance between Iran and Syria and they are part of it," said Lebanese analyst Jihad al-Zein
Naharnet/ Agencies