U.S. concerned Syrian regime planning massacre in Aleppo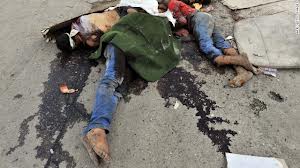 The United States said on Thursday it appeared that forces loyal to Syrian President Bashar al-Assad were "lining up" for a massacre in the city of Aleppo, but again ruled out military intervention in the conflict.
The U.S. State Department said that credible reports of tank columns moving on Aleppo along with air strikes by helicopters and fixed-wing aircraft represented a serious escalation of the government's efforts to crush an armed rebellion.
"This is the concern: that we will see a massacre in Aleppo and that's what the regime appears to be lining up for," State Department spokeswoman Victoria Nuland said.
"Our hearts are with the people of Aleppo, and again this is another desperate attempt by a regime that is going down to maintain control, and we are greatly concerned about what they are capable of in Aleppo."
The city, with more than 2 million residents, is Syria's largest and its commercial capital.
The heavy fighting around Aleppo and the capital Damascus mark a new phase of the violence that has gripped Syria since protests broke out some 16 months ago, and follow a bomb attack that killed four of Assad's closest lieutenants in Damascus last week and led some analysts to speculate that the government's grip was failing.
The United States and its allies reacted with outrage after Russia and China last week lodged their third consecutive vetoes of U.N. Security Council resolutions intended to set specific consequences such as economic sanctions for Assad's failure to end the violence.
Since then, Washington has said it is stepping up assistance to Syria's fractured opposition – although it has said the U.S. help is limited to non-lethal supplies such as communications gear and medical equipment.
"We're continuing to work with other nations and the Friends of Syria as well as other international partners to provide humanitarian assistance to the Syrian people," White House spokesman Jay Carney said on Thursday, adding that along with other non-lethal aid the U.S. could also supply "administrative assistance" to Syria's opposition.
Nuland said that despite U.S. concern over the violence, the Obama administration did not contemplate ending its self-imposed ban on direct military help.
"We do not believe that pouring more fuel on the fire is going to save lives," Nuland said. "The route out of this is not more violence … the route out of this is an end to the violence and a beginning to a true political transition process."
She also dismissed comparisons between Aleppo and the Libyan city of Benghazi, the cradle of the uprising against Muammar Gaddafi, where warnings of a threatened massacre by Libyan government forces in March 2011 prompted the U.N. Security Council to authorize military action to protect civilians.
"There are a vast number of differences," Nuland said, citing lack of a U.N. mandate, more difficult terrain and the absence of a direct call for help by a unified opposition.
"The vast majority of the Syrians want the violence to end. They don't want increased violence," Nuland said. "The kind of groundswell call for external support that we've seen elsewhere is not there."
Reuters