Lebanon: Syrian spillover an emerging concern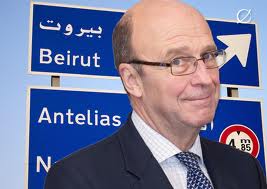 All parties to regional conflict in the Middle East must ensure Lebanon's territorial integrity is honored, a U.N. special envoy said from Beirut.
Derek Plumbly, U.N. special coordinator for Lebanon, met in Beirut with Lebanese Prime Minister Najib Mikati to discuss border security.
"I told the prime minister that (Security) Council members were concerned by the incidents along Lebanon's borders with Syria and that they had stressed the importance of respect for Lebanon's sovereignty and territorial integrity," he said in a statement.
The conflict in Syria has threatened to spill over across the borders with its neighbors. Cross-border fighting was reported in recent weeks along the Lebanese border with Syria.
The Daily Star newspaper in Lebanon reports the country is struggling to meet the needs of the estimated 90,000 Syrian refugees who fled the violence, characterized by the International Committee of the Red Cross as civil war.
Herve Ladsous, a top U.N. peacekeeping official, said half of the 300-member U.N. observer mission in Syria has left the country. He expressed concern about the "vicious circle of violence" that has left at least 19,000 people dead in Syria.
"We will try to work toward contributing to a political solution which would help alleviate all the suffering," he said in a statement from Damascus.
UPI