Obama extends sanctions against Hezbollah backers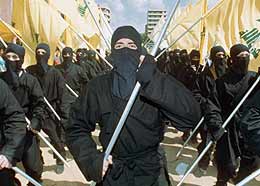 US President Barack Obama extended for another year Wednesday sanctions against entities the US considers threatening to Lebanon's stability, a veiled reference to supporters of Hezbollah.
Obama said in a message to Congress that he would prolong the "national emergency" which former president George W Bush first declared in 2007, and which has been renewed each year since.
The measures include freezing the assets of people considered to be threatening to Lebanon's democracy or stability.
"Certain ongoing activities, such as continuing arms transfers to Hezbollah that include increasingly sophisticated weapons systems, serve to undermine Lebanese sovereignty, contribute to political and economic instability in Lebanon, and continue to constitute an unusual and extraordinary threat to the national security and foreign policy of the United States," the president wrote.
Obama mentioned "Syrian interference in Lebanon" but did not explicitly reference the current conflict in Syria. However, sectarian violence has flared on a number of occasions in Beirut since the revolt broke out in neighboring Syria in March last year.
The violence reflects a deep split between Lebanon's political parties. The opposition backs those leading the revolt in Syria, while a ruling coalition, led by the powerful Shiite Hezbollah, supports President Bashar al-Assad's regime.
The US classes Hezbollah a "terrorist organization," and accuses Syria and Iran of arming the group.
The Pentagon said the suicide bombing attack on Israeli tourists in Bulgaria last week bore "some of the hallmarks of Hezbollah."
Israeli will Defence Minister Ehud Barak warned on Sunday that the Jewish state would not tolerate the transfer of advanced weapons to Hezbollah, as fears grew about the future of Syria's suspected chemical arsenal.
Israel has frequently raised the alarm over the possibility of Hezbollah gaining access to Syria's suspected stockpile of chemical and other advanced weapons, fearing that such a scenario could become reality in the chaos that would accompany a collapse of the Assad regime.
Dawn