Mansour openly disobeys Lebanon president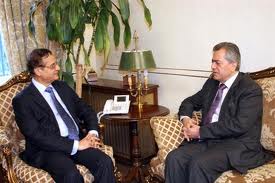 Al-Manar television reported on Monday that Lebanese Foreign Minister Adnan Mansour will not send the letter of complaint to Syrian authorities that President Michel Suleiman had requested over the border violations( by Syria).
Al-Manar added that Mansour was waiting to "verify the facts on the ground."
Suleiman on Monday accused Syria of violating the Lebanese territories and requested Mansour to send the letter of complaint to Syrian authorities. Suleiman's protest came after a house in the east of the country was hit by a blast and shells fell on the northern border.
The report by Hezbollah's Al Manar's came after Mansour met with Syrian Ambassador to Lebanon Ali Abdel Karim Ali who told As-Safir newspaper in remarks published on Tuesday that he was "surprised" by President Suleiman's protest against recurrent Syrian border violations.
The ambassador also told As-Safir that he didn't receive any official complaints from the Lebanese side ( Mansour) .
"Syria is the one supposed to complain, as it is the one that is on the receiving end of gunfire and rockets fired from the Lebanese side… The violations emerging from the Lebanese side harm the brotherly Lebanese-Syrian relations," Ali added.
Mansour is a member of the Amal movement which is allied with the Iranian an Syrian backed- Hezbollah militant group. Hezbollah has been openly supporting the Syrian regime in its crackdown against the pro democracy protesters . Over 19000 have been killed since the uprising began in March 2011.
The current government is dominated by Hezbollah
Persona non grata
The head of "change movement" Elie Mahfoud, commented on Ali's criticism and said the envoy has become a persona non grata in Lebanon and should pack and leave.
"Ali Abdel Karim Ali's his hostility to the Republic of Lebanon requires a firm stand", Mahfoud said describing Ali as 'rude'.
Mahfoud praised Suleiman's stance as "courageous" but strongly criticized the stance of the Lebanese Foreign minister.
"Mansour works for the interest of Syria and not Lebanon", he said
Mansour has been accused on several occasions of acting on orders from Syria , but since Hezbollah dominates the cabinet prime minister Najib Mikati cannot fire him.