Helicopters join battle in Syria's Aleppo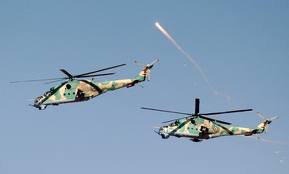 Fierce clashes intensified in Syria's commercial capital of Aleppo on Tuesday as the government unleashed attack helicopters on rebellious neighborhoods and warplanes circled overhead, while activists claimed opposition fighters had control over several neighborhoods in the city.
With sequential rebel attacks on the country's two largest cities and a bombing that wiped out some of his top security advisors, President Bashar Assad reshuffled his top security posts, dismissing one general and appointing a national security council chief to replace the one killed in the attack.
Syria's rebels, outmanned and outgunned by the regime's professional army, have mounted a surprising pair of offensives over the last 10 days against the country's two major cities — Damascus and Aleppo. Even as the government appears to have snuffed out most of the rebel pockets in the capital, the rebels appear to be fight fiercely in the commercial hub of Aleppo in the north.
The battle in Aleppo has spread from neighborhoods in the northeast and southwest of the city to previously untouched areas like Firdous in the south and Arkoub closer to the center, local activists and the Britain-based Syrian Observatory for Human Rights said.
Opposition activist Mohammed Saeed has estimated that the rebels are holding large chunks of the city and the government has responded with attack helicopters — key to their retaking of Damascus over the last few days.
Circling fighter jets have also been breaking the sound barrier overhead in an apparent attempt to cow the fighters.
"It's like a real war zone over here, there are street battles over large parts of the city," Saeed said, with the sound of gunfire and explosions audible over the phone. "Aleppo has joined Homs and Hama and other revolutionary cities."
On Sunday, a newly formed alliance of rebel groups called the Brigade for Unification announced an operation to take Aleppo, the country's largest city with about three million people. While the rebels have not shown themselves able to hold neighborhoods for any significant period of time, the continued fighting highlights the government's inability to pin down the lightly armed opposition forces.
Prisoners in Aleppo's jail also rioted overnight and activists said at least eight have been killed by government forces. Another prison riot in the city of Homs has been quelled with tear gas and live ammunition.
USA today