Bread queues, destruction as war comes to Damascus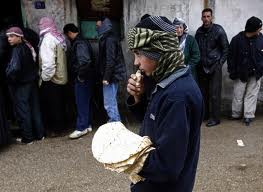 MASNAA, Lebanon (AP) — After a bloody, weeklong siege in the Syrian capital, residents who stayed behind are facing hours-long lines for gasoline and bread, stinking piles of garbage in the streets and scenes of destruction unimaginable in a city that had long been spared the worst ravages of the country's uprising.
It's a gruesome turn for the distinguished Middle Eastern city of Damascus, one of the oldest continuously inhabited cities in the world, and a sign that Syria's civil war appears doomed to escalate.
Residents in the hardest hit neighborhoods of Midan, Qaboun and Barzeh picked through the rubble of destroyed homes, charred cars and mangled electricity cables. Even as the government claimed on Monday to have largely put down rebels in the city, some residents fearing more violence continued to trickle into neighboring Lebanon, where thousands fled during the height of the fighting last week.
"I never thought I would see gunmen clashing with the army on the streets of Damascus, people fleeing their homes," said Nahed, a 32-year-old peace activist in Damascus. "It's like Lebanon but in reverse," she said, referring to the 2006 war between Israel and Hezbollah when thousands of Lebanese poured into Syria, looking for safety.
For a year and a half, residents of the Syrian capital went about their daily business, largely oblivious as President Bashar Assad's forces and rebels laid waste to towns and cities across the country. Restaurants, cafes and night clubs filled up every night with members of a Damascus elite convinced that the regime would keep the fighting away from its heavily guarded seat of power.
So when the "Damascus Volcano" — as anti-regime activists call the unprecedented eruption of rebels in the capital — struck on July 14, many in the city of 1.7 million were unprepared.
The veneer of calm was shattered and the once bustling, tourist-friendly metropolis was transformed into a virtual war zone as government forces unleashed their full might against the insurgents. Helicopter gunships and tanks blasted rebel positions in neighborhoods. Artillery batteries fired down from the mountains overlooking Damascus into the city.
Long lines built up at the border crossing into Lebanon with cars packed with families and their belongings. Some who stayed packed "getaway bags" with passports, diplomas, money and other valuables in case they had to run for their lives.
"I feel very bad leaving Damascus," said a woman from the upscale Mazzeh district, which also saw fighting, after she arrived in a taxi at the Masnaa border crossing Monday. "I was crying the whole night yesterday when I said goodbye to my family."
"I never thought this would happen in Mazzeh," she said quietly. Wearing a shirt and blue jeans, she held her blond, 8-year-old daughter's hand and said she would spend a week in Lebanon until the situation became clearer. She, like others who spoke to The Associated Press, refused to give her name for security reasons.
For days, Damascenes slept and woke up to the crackle of machine-gun fire and thud of explosions. Gray smoke covered parts of the city's skyline. Tanks and armored personnel carriers rolled onto streets as soldiers set up checkpoints, searching people's cars and asking for IDs. Trash piled up as garbage collectors stopped working.
The government virtually sealed the city off from its suburbs in an attempt to keep more rebels from infiltrating. While the heaviest battles were concentrated in specific, rebellious districts, random shootings broke out across Damascus, including firefights near the prime minister's office and only a few hundred meters (yards) from parliament. Residents locked themselves in to their homes. Most shops shut down.
"I haven't gone out in days, it's crazy outside. Everyone is shooting at everyone else and I don't want to die by mistake," a 28-year-old resident of Mayssat, a neighborhood close to the hard hit Rukneddine district, told AP by telephone over the weekend.
Activists say dozens were killed in the days of fighting, though there is still no firm number.
The hardships coincided with the start over the weekend of the holy month of Ramadan, when Muslim families typically meet over lavish meals to break their daylong fast and watch seasonal TV soap operas. Instead, they now tune in to satellite stations for news of fighting.
Business Week