Opposition chief reassures minorities on post-Assad Syria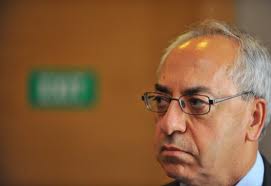 The new head of the opposition Syrian National Council on Friday sought to reassure the country's minorities on the consequences of a possible fall of the Assad regime, saying their rights would be protected.
"A future Syria will be pluralist, middle-class and democratic," Abdel Basset Sayda told German radio and television network Deutsche Welle.
"We want to reassure all people," he said. "We do not want to reassure you to please the international community. We see this as a national necessity."
Sayda said the SNC had adopted a document that "guarantees the rights of all minorities", stressing that his message was mainly geared towards Syria's Christian and Alawite minorities.
Members of the Alawite community — an offshoot of Shiite Islam to which Bashar al-Assad belongs — generally support the regime.
Fears of these populations are understandable given the regime's anti-opposition propaganda, he said, but added that Syria's Muslim Brotherhood, a key opponent of Assad's regime and a major component of the SNC were "committed to protecting minority rights".
"There will be no room for ideological, nationalist or religious extremism."
Sayda said that after Russia and China vetoed a UN Security Council resolution on Syria Thursday for the third time, sparking outrage by Western nations calling for sanctions against Assad, action should be taken "outside the council".
"The 'Friends of Syria' group offers a legitimate framework in which decisions can be taken," he said, warning that the Assad regime was "more and more becoming a threat for the region's security and stability".
Sayda had said in Rome Thursday the Syrian regime was "in its final days".
The Syrian National Council is "ready to take power in Syria", he told Deutsche Welle. "We have a concrete plan and keep contact with all opposition groups inside and outside Syria."
Syrian forces launched an all-out assault on opposition strongholds in Damascus Friday, a day after rebels seized crossings on the Iraqi and Turkish borders on the 16-month conflict's deadliest day so far.
Expatica