MP Harb: Cabinet must hand over telecom data to avert strife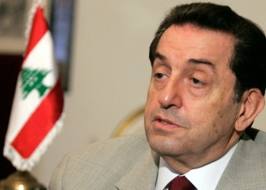 March 14 MP Boutros Harb told the Voice of Lebanon radio station on Saturday that the cabinet must hand over the required telecommunication data to the security forces in order to prevent a strife in Lebanon.
"The cabinet is still withholding telecom data; if it wants to avoid strife in the country, it should handle this issue very seriously," Harb said.
He also said that if the cabinet would not release the telecom data, he would accuse it of facilitating crimes against Lebanese politicians.
Harb escaped an assassination bid earlier this month. The attempt on his life follows a bid last April to assassinate Lebanese Forces leader Samir Geagea.
Harb said on Friday that one of the suspects in the assassination attempt against him was a Hezbollah member.
"One of the suspects refused to appear before the security forces for the investigation under the pretext of belonging to a security apparatus in Hezbollah," Harb told LBC television.
According to media report the suspect was the head of Hezbollah's explosives unit.
The ministry of communications is headed by minister Nicolas Sehnaoui , a member of the Free Patriotic Movement ( FPM) . FPM's leader MP Michel Aoun is a staunch ally of Hezbollah and Syria.