Syria assassinations: Hezbollah faces a moment of reckoning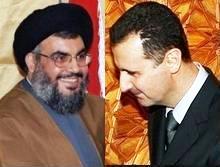 Observers are predicting increased political problems for Hezbollah in Lebanon because of its close ties with the Syrian regime. In an article for Foreign Affairs, Mona Yacoubian explains:
"Hezbollah faces a moment of reckoning. The increasingly likely demise of Bashar al-Assad's regime in Damascus would deprive the militant Lebanese Shiite organisation of one of its main patrons and could constrain its ability to play an active role in regional politics.
Moreover, by offering up unbridled support for Syria, Hezbollah has placed itself at odds with the popular revolts that are unseating autocratic rulers across the Arab world, undermining the narratives of resistance and justice for the oppressed that it has long espoused.
Facing the loss of a key ally and with its credibility compromised, an off-balance Hezbollah could turn inward, deepening its involvement in Lebanese politics in order to consolidate its power."
In a speech yesterday marking the 6th anniversary of the July 2006 war with Israel Hezbollah leader Sayyed Hassan Nasrallah offered condolences over the assassinations in Damascus and said:
"We are sad over the killing of the three because they were comrades-in-arms to the resistance and comrades in the struggle against the enemy," – adding: "Israel is happy today because there are pillars in the Syrian army that have been targeted and killed."
Nasrallah, who looked very nervous yesterday reiterated his call for dialogue between the regime and opposition groups to solve the crisis in Syria.
"We renew our call for the protection of Syria, its people and army. The only solution is through the acceptance of dialogue and this should be done swiftly."
He also voiced confidence that the Syrian army wound stand fast in the face of armed rebel and opposition groups seeking to topple the Assad regime.
"We are confident that the Syrian army, which has had to cope with the intolerable, has the ability, determination and resolve to endure and foil the enemies' hopes," Nasrallah added.
Syrian SANA TV reported yesterday that the blast at the National Security building in Damascus killed Defense Minister Dawoud Rajha; Assad's brother-in-law, Assef Shawkat, who was a close confidant of the dictator; and former Defense Minister Hassan Turkmani.
Assad's location was unknown, but according to a report by Reuters the Syrian President is in the coastal city of Latakia, directing a response to the assassinations. Assad, who has not made a public appearance since Wednesday's attack is reportedly commanding the government operation. It was not clear whether Assad traveled to the Mediterranean sea resort before or after the attack.
In another report the Lebanese Al Rai newspaper reported that following the bombing on Wednesday which resulted in the killing of the top military team of the Syrian regime, President Assad headed to the village of Kardaha where the Assad clan came from. Kardaha is located in the Alawite mountains in northwest Syria near the Mediterranean port city of Latakia.
Telegraph, agencies