Hezbollah Chief: Syria provided our rockets in 2006 war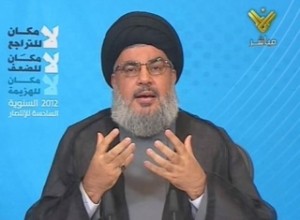 Hezbollah Secretary General Sayyed Hassan Nasrallah on Wednesday defended Syria's role as a resistance state, saying that Damascus provided rockets used by Hezbollah during the 2006 July War and Hamas during the 2008-2009 Gaza War.
"The most important rockets that targeted Haifa and the center of Israel were made by the Syrian military and given to the Resistance. Syria was an aid to the Resistance and gave [us] weapons that we used in the 2006 July War. Not only in Lebanon, but also in the Gaza Strip [against Israel in the 2008-2009 war]," the Hezbollah chief said
"The Syrian leadership was risking its interests and existence in order for the resistance in Lebanon and Palestine to be strong. Show me one other Arab regime that does the same."
Nasrallah said that the US and Israel viewed Syria as a problem and decided to "use the rightful demands of the Syrian people to engaged Syria in a war."
The Hezbollah chief's statements came after an explosion earlier in the day in Damascus killed Assad's brother-in law Assef Shawkat, Syrian Defense Minister Daoud Rajha and Syrian crisis cell director Hassan Turkmani. Fighting intensified throughout the Syrian capital later in the day, with shelling reported across numerous neighborhoods.
"We [are indebted to] these prominent leaders [who died today in Syria]. We offer the Syrian leadership, army and people our condolences and we condemn this attack that only serves the interests of the enemy. We have full trust that the Syrian army has the ability to remain standing."
Nasrallah also said that Hezbollah had achieved a major intelligence coup against Israel during the 2006 July War and was aware of Israel's military plans for any upcoming conflict.
"We know what [Israel's] first attack will be in the next war. We will surprise [Israel] when [they] conduct their [opening military operation]," the Hezbollah chief warned.
He added that at the onset of 2006 July War, Hezbollah counter-intelligence foiled an operation to destroy the group's medium and long-range missile capabilities.
According to the Hezbollah chief, Hezbollah knew that Israel's security cabinet had planned to bomb the Resistance's missile platforms in a one-hour military action, but Hezbollah had successfully moved the platforms to other areas.
Turning to domestic politics, Nasrallah called for lessening sectarian tension and reiterated his party's relationship with the Free Patriotic Movement.
"We confirm our relation with FPM leader MP Michel Aoun. The alliance between us for the past six years cannot be ended by a dispute or a possibility of a dispute. Allies [may] disagree. Neither of us follows the other or cancels the other," he said.
"I call on all of you to be mature. Today there is a lot of sectarian rhetoric. Preachers should confront this. If a Shia says something that insults another sect, we, as Shia scholars have to stand up in his face and silence him. The Sunnis, the Christians and the Druze have to do the same. "
Now Lebanon