Lebanon: Mystery surrounds the identity of crashed drone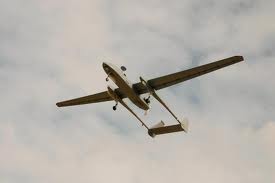 A Hezbollah official Sunday denied a drone that crashed in northeastern Lebanon belonged to the militant group.
According to local reports, Hezbollah officials cordoned off the crash site and prevented access to the area. A Hezbollah crew later transported the wreckage to an unknown destination.
The crash of the drone led to a fire in the area prompting Civil Defense teams and security agencies to the scene.
Israeli daily Maariv reported the drone that caused a fire near the town of Younin in Baalbeck Saturday was being tested by Hezbollah.
Witnesses to the crash told Maariv they saw a "ball of fire crash to the Earth," which caused a huge crater that was later filled in. The drone was on a test run, the Israeli daily said.
Maariv said the crash supports earlier reports that Iran was supplying Hezbollah with unmanned aircraft.
Lebanese sources revealed to Saudi newspaper Okaz in a report published on Monday that a number of foreign embassies working in Lebanon have shown great interest in the mystery surrounding the identity of the crashed drone .
The sources told "Okaz" that the diplomatic interest is focused on knowing the relationship between the drone and Hezbollah, especially since the party prevented the Lebanese security from approaching the wreckage of the drone and transported the wreckage to an unknown location.
UPI, Okaz