U.S. Imposes New Rules to Tighten Vise on Iran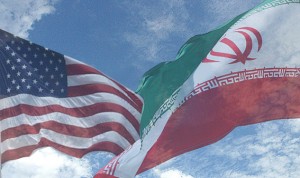 The Obama administration, seeking to plug loopholes in its sanctions against Iran, said Thursday that it would impose additional measures against more than a dozen companies and people involved in that country's nuclear and ballistic missile programs.
The administration also identified a web of front companies that it says the Iranian government uses to try to evade American and European restrictions on its oil exports.
The measures, announced by the Treasury Department, are intended to tighten the vise on Iran, which has continued to defy the West over its nuclear program despite evidence that the sanctions are damaging its oil industry and economy.
"Today's actions are the next step on that path, taking direct aim at disrupting Iran's nuclear and ballistic missile programs, as well as its deceptive efforts to use front companies to sell and move its oil," David S. Cohen, the undersecretary of the Treasury for terrorism and financial intelligence, said in a statement.
But the new sanctions also underscore the challenge the United States faces in isolating Iran, which has busily spun off hundreds of front companies, and renamed or reflagged dozens of ships, to get around existing sanctions.
"This is really a game of whack-a-mole," said Mark Dubowitz, the executive director of the Foundation for Defense of Democracies and an expert on Iranian sanctions. "These are incremental measures. What are needed now are measures more akin to economic warfare than these targeted, pinpoint measures."
Among the companies designated by the Treasury are Electronic Components Industries and Information Systems Iran, which are subsidiaries of an entity that is, in turn, controlled by the Iranian Ministry of Defense. The companies work on semiconductors, circuit boards and mainframe computers that have both civilian and military uses.
Also on the blacklist are four men — three Iranians and an Austrian — that the Treasury Department said support Iran's nuclear and missile programs. Under the sanctions, Americans are barred from doing business with these individuals, and any assets they have under American jurisdictions are frozen.
The administration identified energy-trading firms based in Switzerland, Hong Kong, Malaysia and Dubai that it said are either owned or controlled by or that carry out transactions on behalf of Iran's national oil company. It updated the identification of 57 ships affiliated with the Iranian national shipping line that had been renamed to evade sanctions. And it identified 58 vessels operated by the National Iranian Tanker Company.
Under legislation signed by President Obama in December, the United States must take action against countries that continue buying large volumes of crude oil through Iran's central bank by cutting off from the American banking system their financial institutions engaged in those transactions. But the administration has issued waivers to 20 countries, including China and Japan, as a reward for reducing their oil purchases.
Representative Howard L. Berman, a California Democrat and sponsor of Iran sanctions legislation, welcomed the measures against the National Iranian Tanker Company, but said, "We still have a long road ahead of us." Mr. Berman recently wrote threatening letters to the governments of Tanzania and Tuvalu, after reports that they had allowed Iranian-owned vessels to fly their flags.
With some lawmakers on Capitol Hill calling for more draconian measures, like blacklisting the Iranian central bank, critics question whether the administration's latest measures will make much of a difference in changing Tehran's behavior.
"Their timing is so artful that it begs the question of whether it's the rule of law that's guiding the administration, or politics," said Danielle Pletka, vice president for foreign and defense policy studies at the American Enterprise Institute.
NY Times