Lebanon Cabinet approves 2012 state budget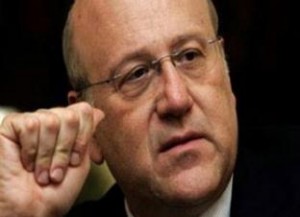 Prime Minister Najib Mikati said on Wednesday that the cabinet approved the 2012 state budget draft law, which will be refereed to the parliament for final approval.
The premier also said that Lebanon's share of the Special Tribunal for Lebanon ( STL) funding was paid in the same manner as last year but was not included in the state budget .
The premier also said that the taxes imposed by the new state budget will not "greatly impact" citizens.
"The taxes are indispensable, because we cannot spend without [state] revenue," he added.
Mikati said that there "is a deficit in the budget, but it does not [exceed limits]."
He also said that the approval of new system for ranks and salaries as well as the financial support for the army were approved outside the state budget.
During its session at Baabda palace under President Michel Suleiman on Tuesday, the government studied around 30 out of the 105 articles of the budget which would stand at LL21 trillion, while the deficit would reach LL5.6 trillion.
The budget may include new fees on certain items such as tobacco, cigarettes, alcoholic beverages and luxury cars that cost more than $35,000 in the countries of origin, according to An Nahar newspaper