Aoun denies visiting Syria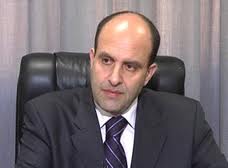 Former Free Patriotic Movement MP Salim Aoun on Monday denied a media report published in Al-Liwaa newspaper which revealed that he visited Syria and met with officials.
According to the report Aoun brought a message from the Syrian officials to Change and Reform bloc leader MP Michel Aoun in which they asked him to "ease the tension with Hezbollah and Speaker Nabih Berri."
"The news is completely unfounded," a statement issued by Salim Aoun's office read.
The statement also "challenged " Al-Liwaa newspaper to prove that he visited Damascus.
This comes after Change and Reform MPs have been collaborating with Lebanese Forces, and Phalange MPs in opposing Speaker Nabih Berri over his draft law that calls for changing in status of the striking part-time EDL employees . The striking employees want their employment contracts to be changed from part-time to full time.
MP Michel Aoun and Berri are closely allied with the Iranian and Syrian-backed Hezbollah militant Group
According to local reports 1700 of the 2300 part-time employees are reportedly Shiites while only few hundred are Christians and the balance are Sunnis. This is reportedly a major concern for Aoun, since according to Taef accord Half of the full-time employees should be Christians while the other half should be divided between the Sunnis, Shiites and the Druze.