Akkar MPs urge transfer of Wahed's killing case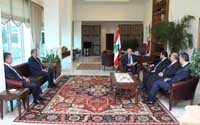 A delegation of Akkar MPs met on Monday with President Michel Suleiman at the Babda palace and asked him to refer the case of the killing of Sunni cleric Sheikh Ahmad Abdel Wahed and his bodyguard to the Judicial Council, National News Agency reported.
According to NNA the delegation included the following MPs: Hadi Hobeich, Khaled Zahraman, Nidal Tohme and Riad Rahal.
Last May, army troops shot dead Abdel Wahed and his bodyguard, Sheikh Mohammad Hussein Merheb, when their convoy allegedly failed to stop at a checkpoint in North Lebanon.
His death sparked tension in many Lebanese areas which resulted in the killing of two people Tariq al-Jedideh, Beirut
March 14 opposition coalition is calling for the transferof the case to the Judicial Council because 11 of the 16 army suspects in killing of the cleric were released by the military court last week without any trial.
Aoun opposes move
Free Patriotic Movement leader MP Michel Aoun said in remarks published on Monday that he was against transferring the case of the Sunni cleric to the Justice Council.
"Transferring the case to the Justice Council undermines the Lebanese army, and we cannot accept this," Aoun told As-Safir newspaper adding that the ministers of his change and reform bloc will vote against transferring the case to the Justice Council.
Asked if the bloc may resign from cabinet, Aoun said: "The option of resignation is not [being discussed] now. However, we will not hesitate to seclude [ourselves] if there is a necessity."
The current government is dominated by Hezbollah which reportedly behind the decision by the military court to release the 11 suspects in the killing of the anti-Syrian cleric .
Aoun is closely allied with Hezbollah